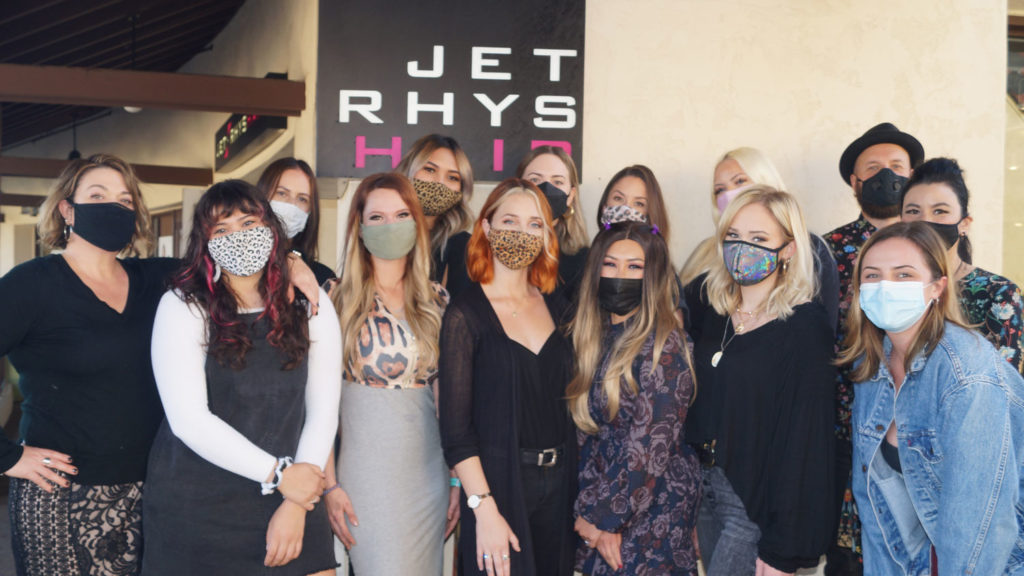 Jet Rhys Hair
Enter a salon that is hip, architecturally inspiring and so friendly you'll feel like you've been coming here for years! In this environment where client comfort reigns supreme, we will strive to discover your desires with a passion for every detail.
At Jet Rhys our clients sometimes know exactly what they want; whether it's long glamorous waves; a tone on tone cashmere blonde like Jennifer Lawrence and Scarlett Johannson or an inspired "Multi-Textured Bob" seen walking the runways of designers like Gucci; whatever your desire it should be fabulous looking . Almost everyone who walks through our doors wants at least a little MAGIC, and we will make your visit to our eclectic salons a memorable experience.
The entire team of stylists at Jet Rhys salon specializes in their respective fields of cutting, coloring, styling and much more. They possess the unique abilities to individualize the current trends and styles to suit your every need. In one word–fabulous!
Click here if you would like to schedule an appointment.
Click here if you are interested in employment with Jet Rhys.
For corporate inquiries and communication, email: manager@jetrhys.com
History
Jet Rhys Salon was founded in 1992 by Jet and Rhys, two former Vidal Sassoon hair specialists from New York. They have more than 25 years of experience working and teaching in Vidal Sassoon academies and salons and are best known for their hip and modern approach to beauty and fashion. Prior to founding Jet Rhys, the pair traveled on the Vidal Sassoon International Show Team, teaching and inspiring hairdressers in Japan, Mexico, Australia and Europe.
Located in San Diego, California, Jet Rhys Salon is an architectural masterpiece synonymous with superb hair design and technique. Each member of the Jet Rhys team is an expert in his or her field and has been personally trained by Jet and Rhys. An ongoing education program ensures staff members stay updated with the hottest looks and trends from around the world. At Jet Rhys, stylists strive to look beyond clients' bone structure and skin tone to find their real persona and create the perfect hairstyle.
Jet Rhys Salon has been featured in numerous fashion and beauty publications such as Harper's Bazaar, Allure and W Magazine. Jet and Rhys were recently recognized by Self Magazine as one of the top salon teams in the United States. They are co-producers of Jet City, a video guide that demonstrates exciting, simple and creative color techniques for salons.
Jet Rhys Biography