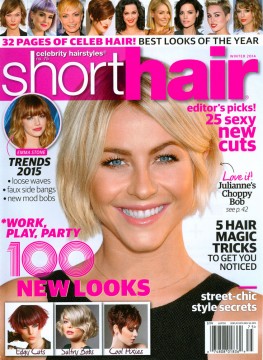 5 "IT" LOOKS:
Are their styles do's or don'ts? Mane maven Jet Rhys of her namesake salon in San Diego weights in!
by Mary Greenberg

Asymmetrical Chop
Jennifer Lawrence vs. Elsa Pataky
With its glamorous yet unstructured feel, JLaw is the clear winner–Jet gives her major props for tucking on side back. While Elsa's got a great cut, it isn't properly styled. "If she had a definite low parting rather than puffing it up and over, it would be better. Also, the color is too white against her skin."
Full Mid-length
Lauren Cohan vs. Leigh Lezark
Score this one for team Leigh: "Her hair is dressed up but it's not too stiff." Jet also likes the kicky ends and her classy ebony color, and deems Lauren's look a little rough around the edges. Making matters worse, "her color is too stripy and dated; I'd suggest a light cocoa brown."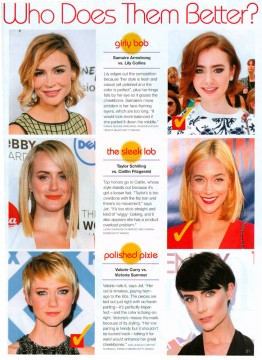 Who Does Them Better?
Girly Bob
Samaire Armstrong vs. Lily Collins
Lily edges out the competition because "her style is fresh and casual yet polished and the color is perfect", plus her fringe falls by her eye so it grazes the cheekbone. Samara's mane problem is her face-framing layers, which are too long. "It would look more balanced if she parted it down the middle."
The Sleek Lob
Taylor Schilling vs. Caitlin Fitzgerald
Top honors go to Caitlin, whose style stands out because it's got a looser feel. "Taylor's is too overdone with the flat iron and there's no movement," says Jet. "It's too stick-straight and kind of 'wiggy' looking, and it also appears she has a product overload problem.
Polished Pixie
Valerie Curry vs. Victoria Summer
Valerie nails it, says Jet. "Her cut is timeless, paying homage to the 60s. The pieces are laid out just right with no harsh parting–it's perfectly imperfect–and the color is bang-on right. Victoria's misses the mark because of its styling. "Her low parting is trendy but it shouldn't be tucked back–taking it forward would enhance her great cheekbones."