Star Makeover Scene
Are Their New Looks Hot or Just Ho-Hum?
Jet Rhys of her namesake salon in Solana Beach, CA weighs in on 8 celebs recent style redos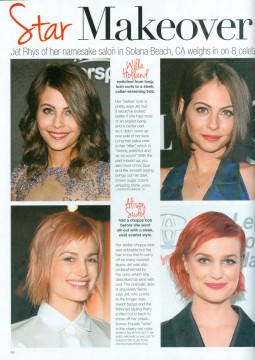 Willa Holland
switched from long, lush curls to a sleek, collar-skimming bob.
Her "before" look is pretty, says Jet but it would've looked better if she had more of an angel bang and a center part so it didn't cover up one side of her face. Long hair pales next to her "after" , which is "trendy, polished and va-va-voom!" With the part moved up, you see more of her face and the smooth styling brings out her dark brown sugar color's amazing shine.
Alison Sudol
had a choppy bob before she went all-out with a sleek, vivid scarlet style.
Her earlier choppy look was adorable but her hair is too fine to carry off so many razored layers. Jet was also underwhelmed by the color, which she described as wine with rust. The dramatic redo is absolutely fierce, says Jet, who points to the longer, side-swept bangs and the flattened styling that's puffed out in back to show off her cheekbones. Equally "wow" is the cherry red color.
Anne Hathaway's
worn her hair pixie-short since Les Mis…until recently.
Both looks are winners, says Jet. "Anne is stunning short hair and I thank her for cutting git off and not getting extensions or a wig." The jaw-length bob is refreshing change and Jet notes that the dark espresso color suits her milky complexion and the cut is totally on-point. She's also a fan of its styling: "The round-brushed fringe is softly flipped to frame her cheekbone and I love the side-parting."
Rose McGowan's
bob was just a stepping stone to a way-short rocker style.
"Her former hair is nice but I dislike the way it's styled–it's way too matronly," says Jet, who suggests she take her round-brushed bumpy bangs up and over to show off her great face. Uber-short, gelled, off-the-face hair makes her look 10-15 years younger and her cheekbones simply "jump out at you," says Jet. "The all-over dark chocolate brown color works well too."
Dianna Agron
recently swapped her casual ombré bob for a wavy vintage look.
She's got the perfect face to carry her former look, but according to Jet, the ombré color washed her out and it doesn't really work with shorter hair. "Prefer the new vintage styling with loose waves and pinned-back sides." An added bonus: the shiny cashmere pearl blonde is a refreshing change from her earlier hue, which Jet says looked like dried wheat.
Jena Malone
has traded in her shaggy blonde bob for a sleek, solid red hairstyle.
Jet has nothing but good things to say about Jena's former look. "I love the cut, the texture, the deep bangs and her dimensional color." However, her new 'do just doesn't cut it. "She has a long face shape and a high forehead, so she looks better in up-front layers and bangs." The color is also a problem. "It's brighter than a penny and the dyed brows are too matchy-matchy!"
Elle Fanning
had at least half a foot lopped off her majorly long blonde locks.
While her former style was age-appropriate–it was polished and pretty and Jet liked it tossed over the shoulder–the color was too old for her. Elle's new middie is a big improvement, making her look glam and more grow-up. "The warm chestnut color is perfect for her skin and it makes her shine and come alive." Jet also likes the precise center part, a trend that's "all the rage right now."
Malin Akerman
made jaws drop when she went from way-long to rocker short.
Even though her long hair–including the sun-kissed color–was pretty, it was "just average because the length weighed down her face and hid her neck." Close-cut hair is more youthful and "rock 'n roll," says Jet, plus she styles it off the face to show off her beautiful features. "Her eyes take the spotlight because there's so much depth in the toffee blonde color with pale buttery tips."