You can't always get what you want–except at the salon, that is! Here's how to walk out of your next appointment with the hair of your dreams.
By Krista Bennett DeMaio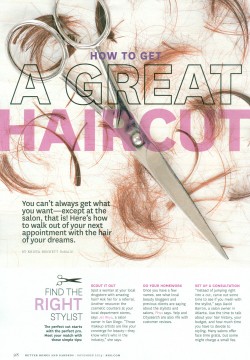 FIND THE RIGHT STYLIST
The perfect cut starts with the perfect pro. Meet your match with these simple tips:
SCOUT IT OUT
Spot a woman at your local drugstore with amazing hair? Ask her for a referral. Another resource: the cosmetic counters at your local department stores, says Jet Rhys, a salon owner in San Diego. "Those makeup artists are like your concierge for beauty–they know who's who in the industry," she says.
DO YOUR HOMEWORK
Once you have a few names, see what local beauty bloggers and previous clients are saying about the stylists and salons, Rhys says. Yelp and Citysearch are also rife with customer reviews.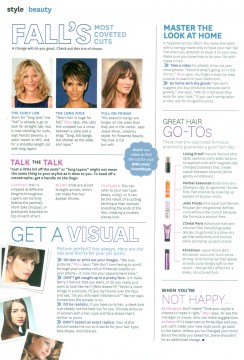 FALL'S MOST COVETED CUTS
A change will do you good. Check out this trio of chops:
THE LONG PIXIE
"Short hair is huge for fall," Rhys says. She calls this cropped cut a cross between a pixie and a shag: "long, full bangs, but shorter at the sides and nape."
GET A VISUAL
Picture-perfect? Not always. Here are the dos and don'ts for your pic picks:
>> DO tear or print out your images. "We love pictures," Rhys says. "We don't love having to scroll through your camera roll or Pinterest boards on your phone – it cuts into your appointment time."
MASTER THE LOOK AT HOME
It happens all too often: You leave the salon with a swingy mane only to have your hair fall flat when you attempt to style it on your own. Make sure you know how to do your 'do with these tricks:
>> Take a video Go ahead, whip out your smartphone. "Record what's going on in the mirror," Rhys says. You'll get a step-by-step tutorial to watch in your bathroom.
>> Go home with the goods "We don't suggest you buy products because we're greedy," she says. "We do it because they work for your look." If you can't swing salon prices, ask for drugstore picks.
WHEN YOU'RE NOT HAPPY…
At the salon Don't leave! "Give your stylists a chance to make it right," Rhys says. Or see the manager or owner, who can make suggestions.
At home If it's been two to three days and you just can't make your new style work, go back to the salon. Unless you've changed your mind about the style you asked for, there should't be an additional charge.