What to do when to do it
"Take off your makeup before bed"
is eternal. But lots of other beauty commandments become outdated every 10 years or so. Turn the page to find your age group and check out our three helpful to-dos for that decade–as well as one oft-repeated mandate you can now ignore
by Holly Crawford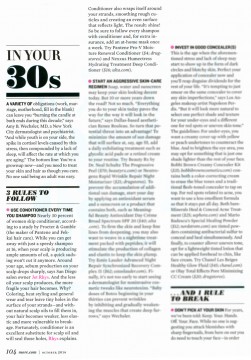 In Your 30s
3 Rules To Follow
USE CONDITIONER EVERY TIME YOU SHAMPOO
Nearly 30 percent of women skimp conditioner, according to a study by Procter & Gamble (the maker of Pantene and Fekkai hair care.) While you can get away with just a speedy shampoo at 16, when your scalp is producing ample amounts of oil, a quick sudsing won't cut it anymore. Around your age, sebum production on your scalp drops sharply, says San Diego salon owner Jet Rhys. And the less oil your scalp produces, the more fragile your hair becomes. Why? Coloring, heat styling and general wear and tear leave tiny holes in the surface of your strands–and without natural scalp oils to fill them in, your hair becomes weaker, less elastic and more vulnerable to breakage. Fortunately, conditioner is an excellent substitute for scalp oil and will seal those holes, Rhys explains. Conditioner also wraps itself around your strands, smoothing rough cuticles and creating an even surface that reflects light. The result: shine! So be sure to follow every shampoo with conditioner and, for extra insurance, add an at-home mask once a week. Try Pantene Pro-V Moisture Renewal Conditioner ($4; drugstores) and Nexxus Humectress Hydrating Treatment Deep Conditioner ($15; ulta.com).

In Your 40s
3 Rules to Follow
EASE UP ON YOUR HAIR
Just when you've come to understand your hair texture, hormones can throw you a curveball. "Hair texture often changes in your forties, becoming wavier, straighter or coarser," Rhys explains. Plus, almost everyone experiences the loss or thinning of hair because of pregnancy or other hormonal shifts. So you have a new mandate: Treat those thinning tresses with kid gloves. Accepting and accentuating your (new) natural texture will make your hair healthier and your AM styling session less frustrating. Some guidelines: If your hair is wavier than it used to be, play this up with a texturizing salt spray like Bumble and bumble Surf Spray ($26; sephora.com). If it's straighter (and chronically limp), try Redken's Cerafill Texture Effect Hair & Scalp Refresher ($18; redken.com for salons); it adds volume the way a dry shampoo does but without the matte finish. If your hair is coarser than it used to be, consider using a styler with moisturinzing ingredients, such as L'Oréal Professionnel Absolut Repair Reconstruction and Protecting Blow-Dry Cream ($26; lpsalons.com). Finally, if your hair is thinning, switch to shampoos and conditioners created to maximize the strands you still have. We like Phylia de M. Shampoo and Conditioner ($35, $40; phylia.com).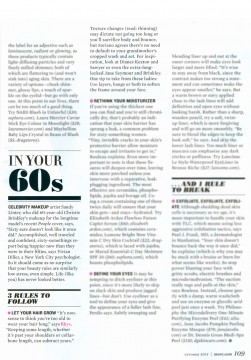 In Your 60s
3 Rules to Follow
LET YOUR HAIR GROW
"It's nonsense to think you're too old to wear your hair long," says Rhys. "Keeping some length, whether it's past your shoulders or collarbone length, can subtract years." Texture changes (read: thinning) may dictate not going too long or you'll sacrifice body ad bounce, but Saviano agrees there's no need to default to your grandmother's cropped wash and set. For inspiration, look at Dianes Keaton and Sawyer or even the extra-long-locked Jan Seymour and Brinkley. One tip to take from these ladies: Use layers, bangs or both to soften the frame around your face.