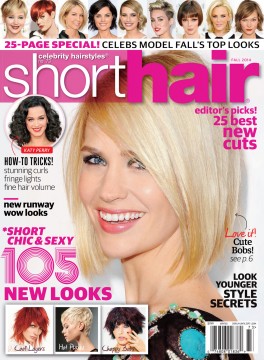 Hair pro Jet Rhys of her namesake salon in San Diego, CA rates several stars' recent style redos
by Mary Greenberg

Jaimie Alexander has been a pixie chick for quite awhile–it's her color that's undergone a major reboot.
Jet is blunt about the blonde. In addition to it being wrong for her skin tone, dark eyebrows and hazel eyes, she explains, "They didn't push the lightener long enough and stopped at the chicken yellow stage." What's more, the "after" cut is too short in all the wrong places. "She looks great without a part and with piece-y bangs that fall forward. Now, all you see are her dark eyebrows."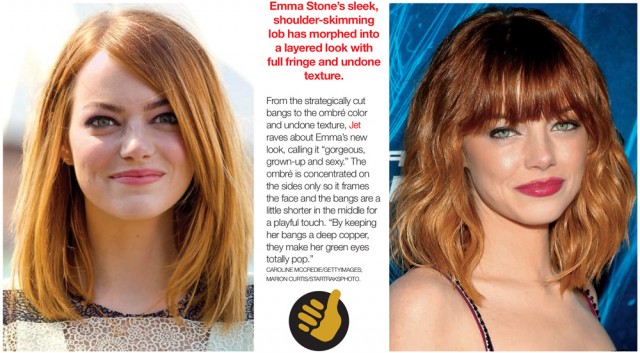 Emma Stone's sleek, shoulder-skimming lob has morphed into a layered look with full fringe and undone texture.
From the strategically cut bangs to the ombré color and undone texture, Jet raves about Emma's new look, calling it "gorgeous, grown-up and sexy." The ombré is concentrated on the sides only so it frames the face and the bangs are a little shorter in the middle for a playful touch. "By keeping her bangs a deep copper, they make her green eyes totally pop."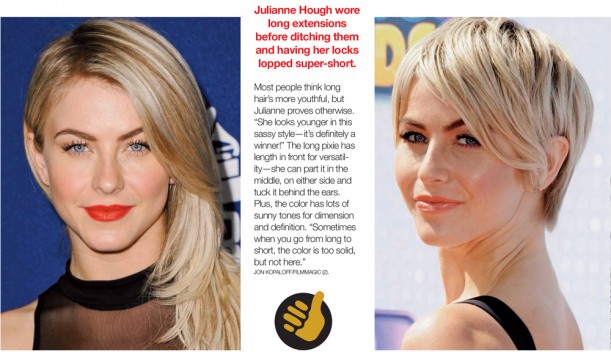 Julianne Hough wore long extensions before ditching them and having her locks lopped super-short.
Most people think ing hair's more youthful, but Julianne proves otherwise. "she looks younger in this sassy style–it's definitely a winner!" The long pixie has length in front for versatility–she can part it in the middle, on either side and tuck it behind the ears. Plus, the color has lots of sunny tones for dimension and definition. "Sometimes when you go from long to short, the color is too solid, but not here."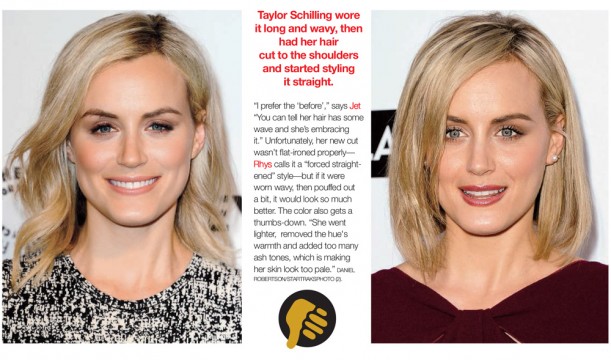 Taylor Schilling wore it long and wavy, then had her hair cut to the shoulders and started styling it straight.
"I prefer the 'before'," says Jet. "You can tell her hair has same wave and she's embracing it." Unfortunately, her new cut wasn't flat-ironed properly–Rhys calls it a "forced straightened" style–but if it were worn wavy, then pouffed out a bit, it would look so much better. The color also gets a thumbs-down. "She went lighter, removed the hue's warmth and added too many ash tones, which is making her skin look too pale."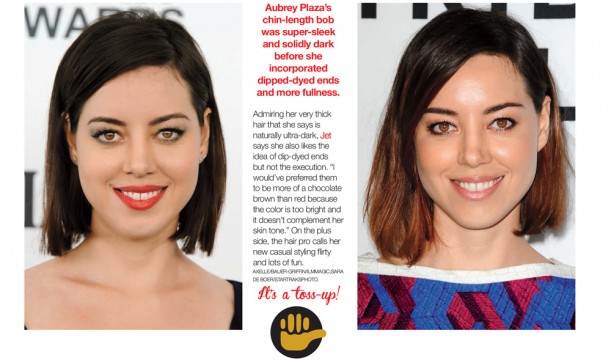 Aubrey Plaza's chin-length bob was super-sleek and solidly dark before she incorporated dipped-dyed ends and more fullness.
Admiring her very thick hair that she says is naturally ultra-dark, Jet says she also likes the idea of dip-dyed ends but not the execution. "I would've preferred them to be more of a chocolate brown than red because the color is too bright and it doesn't complement her skin tone." On the plus side, the hair pro calls her new casual styling flirty and lots of fun.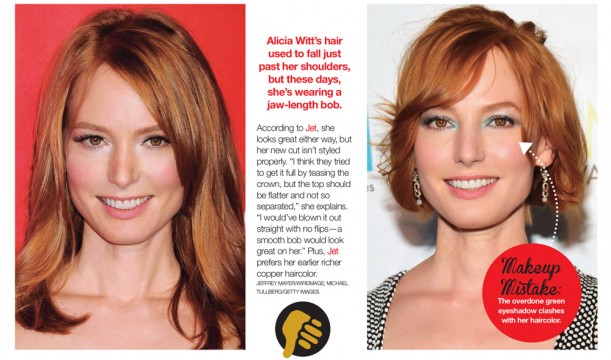 Alicia Witt's hair used to fall just pas her shoulders, but these days, she's wearing a jaw-length bob.
According to Jet, she looks great either way, but her new cut isn't styled properly. "I think they tried to get it full by teasing the crown, but the top should be flatter and not so separated," she explains. "I would've blown it out straight with no flips–a smooth bob would look great on her." Plus, Jet prefers her earlier richer copper haircolor.