Simple No-Sweat Styles.
Toss the blow-dryer and flatiron into the drawer until fall! Keep your locks healthy–and pretty–all summer long with these easy, chic look that are sure to keep you cool
By Liesa Goins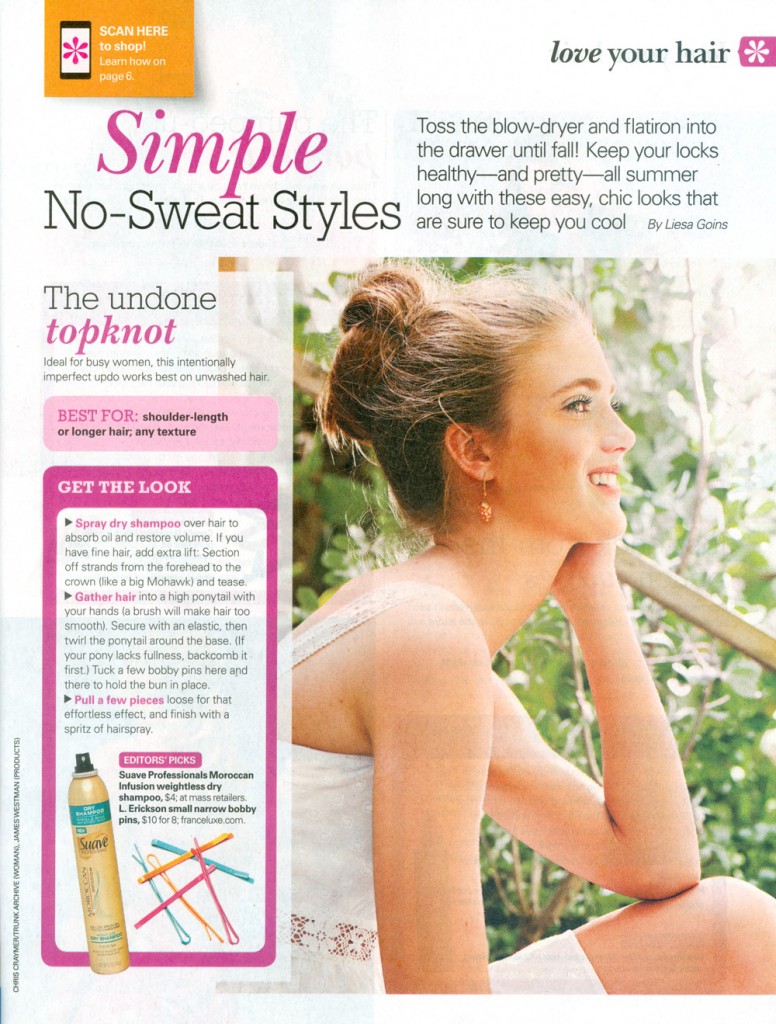 The undone
topknot
Ideal for busy women, this intentionally imperfect undo works best on unwashed hair.
BEST FOR:
shoulder-length or longer hair; any texture
GET THE LOOK
Spray dry shampoo over hair to absorb oil and restore volume. If you have fine hair, ands extra lift: Section off strands from the forehead to the crown (like a big Mohawk) and tease.
Gather hair into a high ponytail with your hands (a brush will make hair too smooth). Secure with an elastic, then twirl the ponytail around the base. (If your pony lacks fullness, backcomb it first.) Tuck a few bobby pins here and there to hold the bun in place.
Pull a few pieces loose for that effortless effect, and finish with a spritz of hairspray.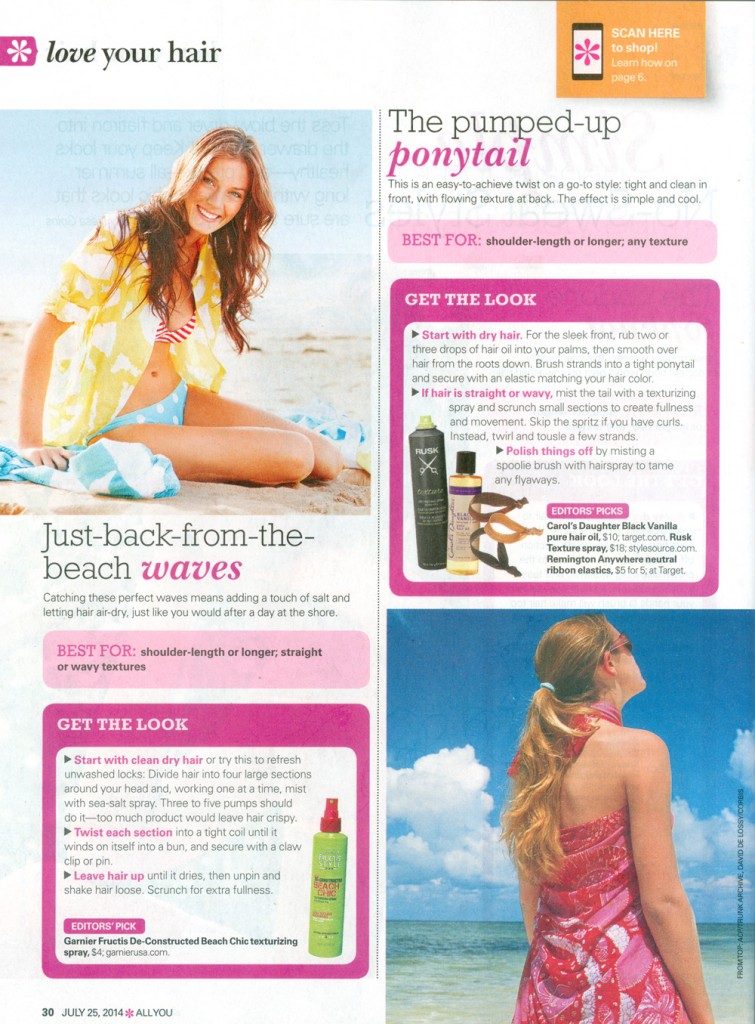 Just-back-from-the-beach
waves
Catching these perfect waves means add a touch of salt and letting hair air-dry, just like you would after a day at the shore.
BEST FOR:
shoulder-length or longer; straight or wavy textures
GET THE LOOK
Start with clean dry hair or try this to refresh unwashed locks: Divide hair into four large sections around your head and, working one at a time, mist with sea-salt spray. Three to five pumps should do it–too much product would leave hair crispy.
Twist each section into a tight coil until it winds on itself into a bun, and secure with a claw clip or pin.
Leave hair up until it dries, then unpin and shake hair loose. Scrunch for extra fullness.
The pumped-up
ponytail
This is an easy-to-achieve twist on a go-to style: tight and clean in front, with flowing texture at back. The effect is simple and cool.
BEST FOR:
shoulder-length or longer; any texture
GET THE LOOK
Start with dry hair. For sleek front, rub two over three drops of hair oil into your palms, then smooth over hair from the roots down. Brush strands into a tight ponytail and secure with an elastic matching your hair color.
If hair is straight or wavy, mist the tail with texturizing spray and scrunch small sections to create fullness and movement. Skip the spritz if you have curls. Instead, twirl and tousle a few strands.
Polish things off by misting a spoolie brush with hairspray to tame any flyways.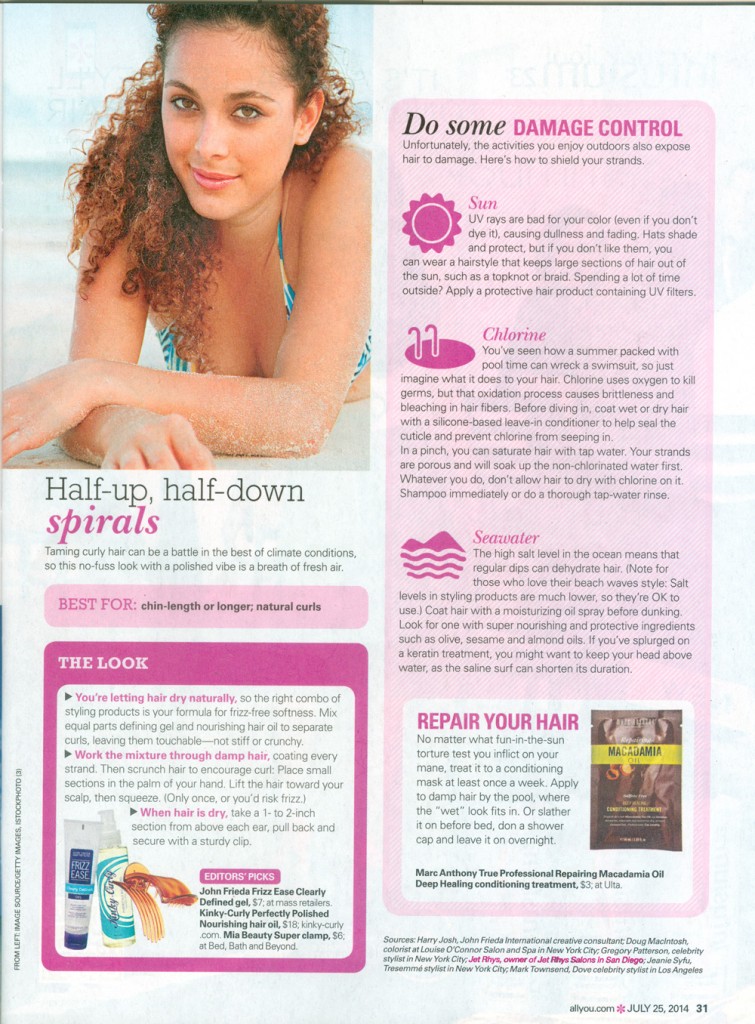 Half-up, half-down
spirals
Taming curly hair can be a battle in the best of climate conditions, so this no-fuss look with a polished vibe is a breath of fresh air.
BEST FOR:
chin-length or longer; natural curls
THE LOOK
You're letting hair dry naturally, so the right combo of styling products is your formula for frizz-free softness. Mix equal parts defining gel and nourishing hair oil to separate curls, leaving them touchable–not stiff or crunchy.
Work the mixture through damp hair, coating every strand. Then scrunch hair to encourage curl: Place small sections in the palm of your hand. Lift the hair toward your scalp, then squeeze. (Only once, or you'd risk frizz.)
When hair is dry, take a 1- to 2-inch sections from above each ear, pull back and secure with a sturdy clip.
DO SOME
DAMAGE CONTROL
Unfortunately, the activities you enjoy outdoors also expose hair to damage. Here's how to shield your strands.
Sun
UV rays are bad for your color (even if you don't dye it), causing dullness and fading. Hats shade and protect, but if you don't like them, you can wear a hairstyle that keeps large sections of hair out of the sun, such as a topknot or braid. Spending a lot of time outside? Apply a protective hair product containing UV filters.
Chlorine
You've seen how a summer packed with pool time can wreck a swimsuit, so just imagine what it does to your hair. Chlorine uses oxygen to kill germs, but that oxidation process causes brittleness and bleaching in hair fibers. Before diving in, coat wet or dry hair with a silicone-based leave-in conditioner to help seal the cuticle and prevent chlorine from seeping in.
In a pinch, you can saturate hair with tap water. Your strands are porous and will soak up the non-chlorinated water first. Whatever you do, don't allow hair to dry with chlorine on it. Shampoo immediately or do a thorough tap-water rinse.
Seawater
The high salt level in the ocean means that regular dips can dehydrate hair. (Note for those who love their beach waves style: Salt levels in styling products are much lower, so they're OK to use.) Coat hair with a moisturizing oil spray before dunking. Look for one with super nourishing and protective ingredients such s olive, sesame and almond oils. If you've splurged on a keratin treatment, you might want to keep your head above water, as the saline surf can shorten its duration.
"So much fun to do this story with Leisa Goins – super excited to be included in this article with all of my friends: Harry Josh, John Frieda International creative consultant; Doug Macintosh, colorist at Louise O'Connor Salon and Spay in New York City; Gregory Patterson, celebrity stylist in New York City; Jet Rhys, owner of Jet Rhys Salons in San Diego; Jeanie Syfu, Tresemmé stylist in New York City; Mark Townsend, Dove celebrity stylist in Los Angeles"