Your hair doesn't have to look like a hot mess when it's scorching outside. These expert-approved tress tamers fix frizz, color fading, and more–so your style sizzles all season long.
by Melanie Rud Chadwick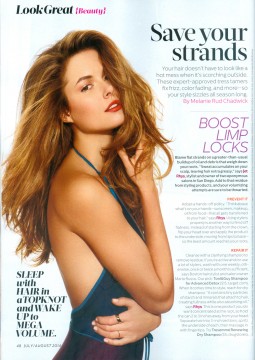 BOOST LIMP LOCKS
Blame flat strands on a greater-than-usual buildup of oil and debris what weigh down your roots. "Sweat accumulates on your scalp, leaving hair extra greasy," says Jet Rhys, stylist and owner of two eponymous salons in San Diego. Add to that residue from styling products, and your volumizing attempts are sure to be thwarted.
PREVENT IT
Adopt a hands-off policy. "Think about what's on your hands–sunscreen, makeup, oil from food–that all gets transferred to your hair," says Rhys. Using stylers properly is another way to fend off flatness. Instead of starting from the crown, flip your head over and apply the product to the underside, moving from tips to base–so the least amount reaches your roots.
REPAIR IT
Cleanse with a clarifying shampoo to remove residue. If you're active and/or use a lot of stylers, wash with one weekly; otherwise, once or twice a month is sufficient, says Boston hairstylist and salon owner Mario Russo. Our pick: Toni&Guy Shampoo for Advanced Detox ($15; target.com). When it comes time to style, reach for dry shampoo. "It contains tiny particles of starch and minerals that attach to hair, creating fullness while also absorbing oil, " says Rhys. This is one product you do want concentrated at the roots, so hold the can 2 to 3 inches away from your head. Separated hair into 3-inch sections, spritz the underside of each, then massage in with fingertips. Try Tresemmé Renewing Dry Shampoo ($5; drugstores).
DEFEAT DRYNESS
The sun is the main cause of a straw-like mane. "People don't realize that UV rays are bad for your skin and hair," says Rhys. "They lift and open the cuticle, the protective outer layer of hair, allowing the moisture inside to seep out." Salt water and chlorine are also to blame. "Both are very drying," says Rhys, "especially when hair is already damaged."
PREVENT IT
Employ products with UV protection. Luckily, many stylers now pack sun-shielders. Two we like: Living Proof Restore Instant Protection ($26; livingproof.com) and Bumble and bumble Hairdresser's Invisible Oil Heat/UV Protective Primer ($26; bumbleandbumble.com). Rethink your sudsing routine too. "Avoid shampoos with sulfates during the summer," says Russo. "These harsh detergents can strip hair's natural moisture, making it more prone to the drying effects of the sun." Opt for a hydrating, sulfate-free formula like Fresh Seaberry Revitalizing Shampoo ($26; fresh.com).
REPAIR IT
This easy overnight treatment will deliver softer locks by morning: Pre-bedtime, apply an almond-size dollop of deep conditioner to clean, damp hair. Try Clear Scalp & Hair Deep Hydrating Treatment Mask ($5; drugstores). Massage from mid-shaft down, smoothing any leftover product onto the roots. Then pin up hair and cover with a shower cap. Besides keeping your pillowcase clean, "this traps your body heat and improves penetration of the mask," explains Rhys. Rinse in the morning and style as usual. Repeat twice a week, or until hair is back to its pre-summer state.
FIGHT FRIZZ
It seems no one is immune from flyways on humid days. Frizz occurs when moisture from the air seeps into hair, causing strands to swell. Healthy, hydrated locks won't be able to absorb as much of this excess moisture, so they're less likely to frizz. On the flip side, dry tresses will soak up too much, leaving them prone to the problem. Combine damaged summer hair with higher humidity levels and you've got the perfect recipe for a frizz-fest, says Russo.
PREVENT IT
Rather than drying hair with a towel, reach for a cotton t-shirt. "The smooth texture creates less friction than rough terry cloth, so the cuticle doesn't get as ruffled," says Russo. A tightly closed cuticle is essential for staying sleek: It locks out ambient moisture and reflects light, so strands look shiny. Making sure hair is completely dry is another way to foil frizz. For the best results, use a blow-dryer with cuticle-smoothing ionic technology, and avoid drying in the bathroom post-shower (the steamy air can sabotage your efforts). A caveat: Regular blow-drys can be damaging, so try to stretch one out for a few days.
REPAIR IT
Dealing with errant strands? Apply a nickel-size drop of hair oil from mid-length to tips and twist into a bun. Try Dove Pure Care Dry Oil Nourishing Treatment ($13; drugstores). "The oil hydrates the hair and makes it look polished, while the tight style keeps flyways at bay," says Rhys. Or, opt for a professional keratin treatment, like Goldwell Kerasilk Keratin Treatment (around $300; goldwell-northamerica.com for salons), which is formaldehyde-free and delivers smoothing effects that last up to five months.
STOP SPLIT ENDS
Though even normal wear and tear can cause the hair shaft to literally reach the breaking point, the problem is more prevalent during the summer–when hair is usually drier and more damaged. Outher mitigating factors: "Besides being more likely to forgo their regular haircuts, women are also frequently wearing their hair up," says Russo. "And constantly putting it in a ponytail or topknot, especially whit elastics that pull and tug, increases the likelihood of breakage."
PREVENT IT
The only way to stop splitting is with regular trims. And in this case, regular means every four to six weeks. It may seem like a lot, but keep in mind that you're not going in for a full cut. Russo recommends asking for a "dusting," which involves cutting just the fraying edges. If you're trying to grow your hair or have serious scissor-phobia, be forewarned that skimping on snips will only come back to haunt you. "You'll end up with so much breakage and damage farther up the shaft that you'll have to take off way more than you would with a trim," he adds.
REPAIR IT
The prevention and cure are one and the same. "Split ends are like a virus–once you have them, they're going to keep spreading," says Rhys. "The sole solution is to cut them off." In the meantime, you can use products marketed as menders as a temporary fix: They bind the broken ends together (typically using a polymer) but, alas, only until your next shampoo. Try Garnier Fructis Damage Eraser Split-End Bandage ($6; drugstores).
FENDING OFF FADING
Whether you dye your hair or not, the sun can wreak havoc on your hue, bleaching it several shades laughter over the summer. If you color your hair, you may also notice other changes–for instance, brunettes turn brassy and blondes look dingy. "When hair is damaged, color molecules from the dye start to slip out, altering the tone," says Nexxus celebrity colorist Aura Friedman, of the Sally Hershberger Salon in NYC. Another culprit? Chlorine, which leaves a greenish cast that's especially noticeable on blondes.
PREVENT IT
A hat and UV protector are the best ways to ward off shade shifting. Even with these protective measures, you'll still experience some fading, so plan ahead to camouflage it. Since color changes are more apparent on a solid hue, Friedman says to ask for highlights (rather than a single process) at the start of the summer. "This way pieces that do fade will look intentional." To avoid chlorine buildup, coat strands with a leave-in product prior to dips in the pool. "This minimizes the amount of water that penetrates into the strand," explains Friedman, who likes Nexxus Color Assure Leave-In Primer ($18; drugstores) for this purpose. If hair does get wet without protection, Rhys suggests rinsing with club soda. "It contains sodium bicarbonate, which counteracts chlorine and thoroughly eliminates it."
REPAIR IT
A color-depositing gloss is the ideal remedy for restoring richness, says Rhys. Have one done at the salon, or try an at-home version like Rita Hazan Ultimate Shine Color Gloss ($26 in 5 shades; Ulta). Whether it's used weekly or monthly, a glaze will help keep your hue true all season long.