By Grace Gold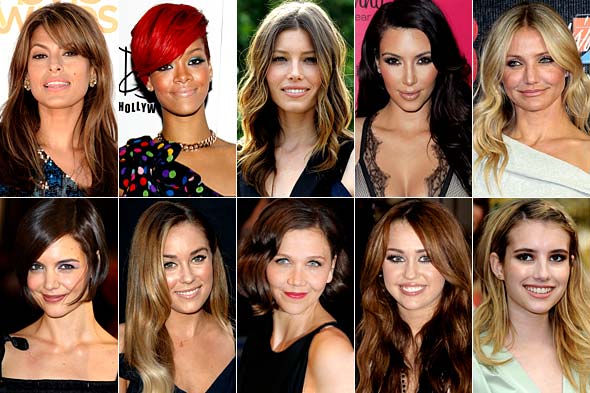 Clockwise from top left: Eva Mendes, Rihanna, Jessica Biel, Kim Kardashian, Cameron Diaz Emma Roberts, Miley Cyrus, Maggie Gyllenhaal, Lauren Conrad, and Katie Holmes.
Photos: WireImage | Getty Images | Retna
The famous may be easy fodder for juicy tabloid stories that you page through while in the grocery line, but there's another arena that they influence more than any other: hair cuts.
From the feathered "Farrah Fawcett" to Jennifer Aniston's "The Rachel," celebrity hairstyles can even define an entire decade of style.
It's no wonder that seven out of ten women rip out a celebrity picture from a magazine to bring to their hairstylist when going in for a new cut.
We asked San Diego and New York salon owners Jet Rhys and Mark Garrison which stars are most influencing hair right now through client requests. Here, the top ten most-wanted cuts from coast to coast.
Eva Mendes and Rihanna. Photos: Steve Granitz, WireImage | Christopher Polk, Getty Images
Eva Mendes
Considered by women and men alike to be a super sexy cut, Mendes' long layers work with the natural wavy texture of her hair, and showcase touchable movement. The sultry actress also adds caramel-colored highlights to her medium brown hair to further accentuate her layers and add dimension, says Rhys.
Rihanna
Self-assured women flock to the songstress's chic 'do, which exudes a powerful air of confidence. 'Her long side-swept razored edge bangs with short sides and back is a very popular request. It's a great way to have short hair with lots of sex appeal and not feel scalped," says Garrison.
Jessica Biel and Kim Kardashian. Photos: Dominique Charriau, WireImage | John Parra, WireImage
Jessica Biel
Biel's locks hit a mid-length that most women find easy to take care of and style. Layers add movement to the hair, and a gentle long side bang adds simple versatility, says Rhys. Biel often styles her side bangs over one eye for a Veronica Lake-like peekabo effect, or parted in the middle so that it seamlessly blends into the rest of the hair.
Kim Kardashian
The reality star's cascading layers are a great way to add shape and movement to long styles that risk looking plain and boring otherwise. "This sexy look is all the rage for those who want long hair that isn't just hanging. The angled front, long layers throughout and wavy texture makes this style modern and fresh," says Garrison.
Cameron Diaz and Katie Holmes. Photos: Victor Chavez, WireImage | Mike Marsland, WireImage
Cameron Diaz
Diaz's playful side bangs and simple cut with a touch of face-brightening light blonde highlights makes the 37 year-old actress look many years younger. A great choice for super fine and thin hair, Diaz's clever layers add volume to her style by stacking on top of one another.
Katie Holmes
While the mom to four year-old Suri Cruise just stepped out in a new shag cut, her previous bob is a top must-have from fellow moms-on-the-go. "Her layered bob is still requested because it's forever chic, timeless and works on all face shapes and hair textures. It looks great straight as well as curly," says Garrison.
Lauren Conrad and Maggie Gyllenhaal. Photos: Scott Kirkland, Retna | James Veysey, Camera Press/Retna
Lauren Conrad
The epitome of the California "it girl," Conrad's long blonde tresses have come to symbolize what it means to be a young socialite, says Rhys. Girls in search of the glamorous life often request the almost all one-length cut, which can be styled to princess perfection with either a flat iron or curling iron. Conrad herself carries off both her straight and curly sides with Beverly Hills sophistication.
Maggie Gyllenhaal
Gyllenhaal has confessed to StyleList that she hates styling her hair, so it's no surprise that low-maintenance women flock to the actress's wash-and-go style. Gyllenhaal's personal stylist, Mark Townsend, tells us that her short bob cut works with the naturally thick and wavy texture of her hair, which means less to no time wielding a blow dryer or brush.
Miley Cyrus and Emma Roberts. Photos: Fotos International/Getty Images | Tom Belcher, Capital Pictures/Retna
Miley Cyrus
Women who love Rapunzel-like long locks have been looking to Cyrus for ideas on sprucing up their style. "Her long look has major appeal because it has lots of layers that give movement and fullness to her style. It's face-framed nicely so it doesn't overwhelm her features," says Garrison. Super long hair that otherwise lacks any layering or style risks making your face look older and long.
Emma Roberts
The niece of leading lady Julia Roberts has a simple, lightly layered medium length that defines youthful freshness with its touch of "undone," messy styling. The cut is ideal for women who love styling and experimenting with their hair, as the length and texture lends itself to an endless array of braids and full and partial updos.