by Melissa Goldberg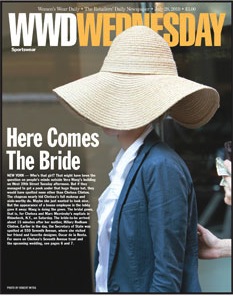 When Women's Wear Daily published a sneak photo of Chelsea Clinton arriving at Vera Wang's midtown New York showroom earlier this week, the 30-year-old Ivy Leaguer was fully decked out in the traditional incognito garb of hat and sunglasses.
Floppy-hat-gate quickly ravaged the Internet.
Is the sun hat reflecting burning rays, or is it secret-service camouflage? Are the sunglasses shielding a fresh chemical peel in prep for the big day? Where's the MOB with her matching floppy?
And most importantly — is there a rejected bridal hair trial stuffed underneath the big brim?
RELATED: Chelsea Clinton's Wedding Details — Everything You Want to Know
We decided to have fun with the wedding-hair idea, and asked some of the top hair stylists across the country which updo they would recommend as the perfect choice for the country's former first daughter.
VIDEO: Our Editor talks to ABC about all the details and why she was surprised President Obama wasn't invited
These stylists have worked on their fair share of celebrities, VIPs and perhaps even the future Mrs. Clinton-Mezvinsky.
Here, the stylists predict how the woman of the hour will look at the wedding of the year.
Wrapped Pony Updo
With a sleek Audrey Hepburn-like society girl feel, this wrapped and carefully tucked-in pony would show off Chelsea's creamy complexion and features beautifully, says San Diego salon owner Jet Rhys. The streamlined silhouette doubles as a clever way to control thick hair prone to pouf'ing under a hot summer sun.   "Chelsea is quite petite with a great, long and thick amount of hair. This look would showcase her neck and beautiful cheekbones," says Rhys.