by: Maura Lynch
Even off the job, beauty editors are on-call specialists of how can I do this , where do I get that , and does this work ? I had a conversation with a friend the other day about how much we love waves (the norm), and immediately afterward, she e-mailed me a photo from this week's episode of Mad Men.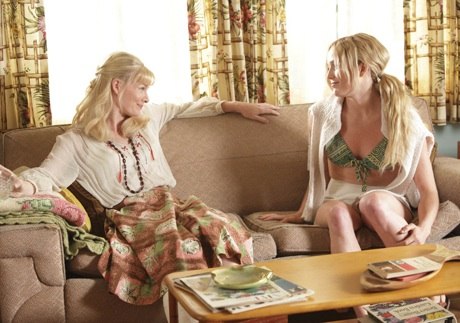 From: Friend of Maura who shall remain anonymous
Date: Tue, 10 Aug 2010 10:47:38 -0400
To: Maura Lynch
Subject: Surf Hair
Sorry I had to send this to you. This girl's hair is amazing, I want to figure out how to do that with my hair.
****
Naturally, I was on the case! I love the low pony–that's easy to replicate–but the dents from the top of the crown to the ends suggest she had slept with a braid that was pretty tight (if not slept, at least let it set for a long time), but I wanted to confirm my instincts with my favorite beach-hair expert, stylist Jet Rhys (of the eponymous salon) in San Diego. E-mail below:
****
From: Jet
Date: Tue, 10 Aug 2010 14:41:27 -0700 (PDT)
To: Maura Lynch
Subject: We want this hair
Hi Maura! Your radar is on the money! We were trying to dissect this look even more at the salon, but no, your answer is it! Braiding!
****
Jet suggests spraying in some light hairspray (she uses Bumble and bumble Does It All) and braiding hair from root to tip in four different sections. And "sleep on a satin pillowcase. The friction of the fibers in a cotton one will cause flyways to strand straight up," she says. To finish it off, in the morning, give yourself a little scalp massage (yes, please) to blend the sections and add one more spritz of spray. On another note, I really hope this character, Stephanie, is a recurring role on the show. I think she'll have some more great styles as the hippie movement ensues.
Also, Jet's unique name has Lucky 's beauty editors contemplating how awesome it would be if Jet Rhys and Joan Jett were married (I imagine this is a frequent problem for people with the common last name Kelly). And could the courageous Jet Blue flight attendant also be somehow involved? These are the things we think about.