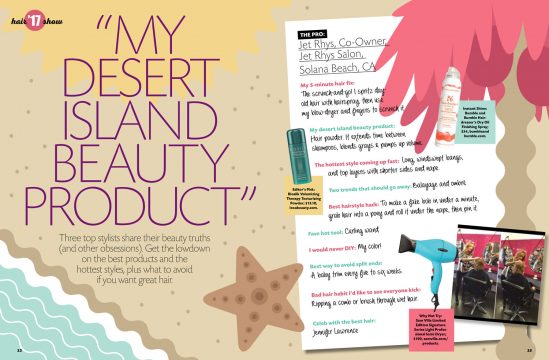 Three top stylists share their beauty truths (and other obsessions.) Get the lowdown on the best products and the hottest styles, plus what to avoid if you want great hair.
THE PRO:
Jet Rhys, Co-Owner, Jet Rhys Salon, Solana Beach, CA
My 5-minute hair fix:
The scrunch-and-go! I spritz day-old hair with hairspray, then use my blow-dryer and fingers to scrunch it.
My desert island beauty product:
Hair powder. It extends time between shampoos, blends grays and pumps up volume.
The hottest style coming up fast:
Long, windswept bangs, and top layers with shorter sides and nape.
Two trends that should go away:
Balayage and ombré
Best hairstyle hack:
To make a fake bob in under a minute, grab hair into a pony and roll it under the nape, then pin it.
Fave hot tool:
Curling wand
I would never DIY:
My color!
Best way to avoid split ends:
A baby trim every five to six weeks.
Bad hair habit I'd like to see everyone kick:
Ripping a comb or brush through wet hair.
Celeb with the best hair:
Jennifer Lawrence
pg 22-23