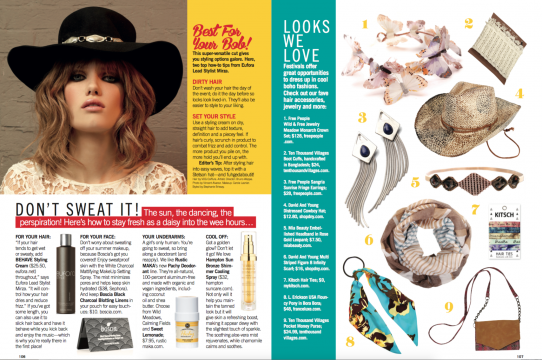 Coachella inspired styles set the scene for your alfresco music season. Get ready to go boho!
Cali-based Coachella may be the most well-known music festival to date (who can resist celebrating amazing music alongside celebs like Kylie and Kendall Jenner, Leonardo DiCaprio and Lea Michelle?). But if you can't make it to the show, no worries–festivals are scheduled country-wide into the early fall!
Whether you're planning to attend a one-week or a three-day soirée, being prepared is key. It's time to have fun and look cute doing it! Jet Rhys of Jet Rhys salon in Solana Beach, CA, gives us the lowdown on her fave festival hair looks just for you….
FLOWER POWER
1. Style short, straight or wavy hair with product suing your hands and avoiding a brush and dryer, which will make your style look pouffy.
2. Hair accessories are a must. Clip a flower or fun gemstone hairpins above your ears, or place a floral headband atop your crown.
GLITTER ROOTS
1. Apply gel on damp hair and comb it through.
2. Take glitter from an art store and sprinkle it on roots.
3. Apply hairspray and let dry.
4. Just remember to keep your hands away from your hair to maintain your sparkle!
CORNROWS
1. Carve out two semicircular sections of hair: one at the nape and one above that.
2. Mist both sections lightly with water (damp hair works best for control).
3. Start with the nape area. At the hairline, take three small sections and begin to braid, tucking each piece under the center strand.
4. Next, pick up small strands to add to the outside pieces as you go; fasten hair off at the nape.
5. Repeat the same for the other section.
6. Once both braids are completed at the nape, combine the two and continue with a regular (underhand) braid through the tips.
HALF-UP UNDONE BUN
1. Add volumizer, and then blow-dry with a round brush.
2. Bring hair to the crown and twist the length, starting at the base until it forms a bun. Fasten with bobby pins, leaving some pieces free.
HAIR WRAP
1. Style hair and lightly tease it all the way through the top.
2. Loosely gather hair in the back and work it into a bun, fastening with an elastic. Allow a few strands to go free on both sides.
3. Take a cute tribal scarf and fold it lengthwise. Position it over the forehead and tie it beneath the loose bun.