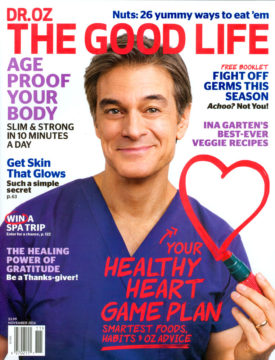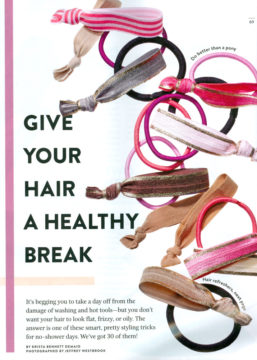 by Krista Bennett Demaio
3 DOUBLE UP IN THE SHOWER
When you do wash your hair, revive the lather, rinse, repeat routine. "Shampooing twice gets your scalp and hair super clean and sets you up for a bouncier look on day two or three," says Jet Rhys, a San Diego–based salon owner. If you have fine or normal hair, pass on "hydrating" or "repairing" shampoos (code words for rich conditioning formulas that could weigh your hair down). Curly, coarse, or dry? You need the moisturizing stuff. All types should use a light conditioner on the ends, says Rhys.






4 THREE WAYS TO REWORK SHORT HAIR
"A cropped cut can be challenging on day two–the whole head goes flat," says Rhys. Three easy hacks to revive it:
PIN IT
Work with, not against, the flatness: Create a side or center part, and pin down face-framing sections on each side with a decorative or regular bobby pin.
SLICK IT
Mix a styling cream with wax or pomade in the palms of your hands, and run your hands through your hair. You'll get shine and hold without stiffness, says Rhys.
TOUSLE IT
Spritz hair with a sea-salt or prep spray, and scrunch with hands. Or coat fingers with a dab of pomade, and muss just the ends of your hair (avoiding roots).

5 DAY TWO ESSENTIALS
Squeeze more milage out of yesterday's do with these tools.
Boar-bristle brush: The natural bristles help carry oil down your hair, making ends look shinier and roots less greasy.
A shower cap: Wear one when you're showering and not shampooing to block out frizz-inducing, style-dampening humidity from the steam.
Prep spray: "It's like a watered-down leave-in conditioner that refreshes hair without making it frizzy," says Rhys. The label also might say "primer spray."
Sea-salt spray: Blowout losing its smooth? Play up the piecey separation with this texturizing spray.
Velcro rollers: Old-school, yes, but they really do lift flat roots and create bounce.
Bobby pins: It's OK, and actually cool now, to leave them visible. Get layers off your face, stack a few in a pattern, or pin back oily bangs, says Rhys.



9 Revive Curls
Second-day spirals may lose their spring, especially if they get smooshed by your pillow. Spot-treat with a prep spray or a light leave-in conditioner. Then wrap individual curls around your finger and gently unravel, says Rhys. You're back to boingy!








12 THIS SPRAY DOES IT ALL
Dry shampoo is your MVP on days you don't wash. It soaks up oil and gives flat, fine hair a volume boosts, so it looks fresher. We'll take it! Follow these four pro printers.
Get focused. Don't spray it all over. Target particularly gunky spots-around your hairline, part, and crown. Lift up 2-inch sections of hair and spray roots, says Rhys.
Not so close. Spritz from 3 to 5 inches away from the scalp, says Webb. Otherwise, you'll end up with big hard-to-blend globs.
Massage it. This is when the magic happens. "The more you rub it in with your fingertips, the better it absorbs oils," says Toth. If you brush to blend, you'll only brush it out.
Apply at night. If you sweat when you sleep, spritz it on you hairline and at the nape of the neck before bed, so you wake up with fresh hair, says Webb. (Then skip it in the morning.)
pgs. 69 – 73