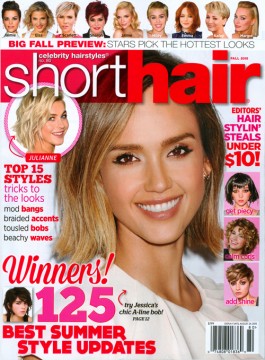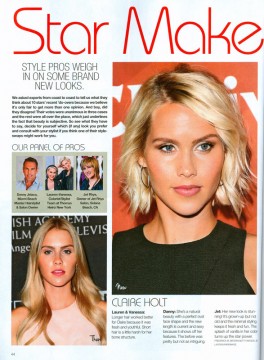 Style Pros Weigh In On Some Brand New Looks.
We asked experts from coast to coast to tell us what they think about 10 stars' recent 'do-overs because we believe it's only fair to get more than one opinion. And boy, did they disagree! Their votes were unanimous in three cases and the rest were all over the place, which just underlines the face that beauty is subjective. So see what they have to say, decide for yourself which (if any) look you prefer and consult with your stylist if you think one of their style-swaps might work for you.
Claire Holt
Jet: Her new look is stunning! It's grown-up but not old and the minimal styling keeps it fresh and fun. The splash of vanilla in her color turns up the star power.
Sarah Harding
Jet: What a sassy new cut and color! The blonde is amped up–it's less gold and more cashmere. I also like the length and minimal styling is sexy.
Sarah Hyland
Jet: Sarah's after is perfect for her. Her lob's deep waves make it fun and fresh. Plus, color ribbons flatter her skin tone and enhance the cut.
Emma Roberts
Jet: Her hair was sweet before, but the new one has a grungy, edgy vibe. Also, the color is great with more contrast.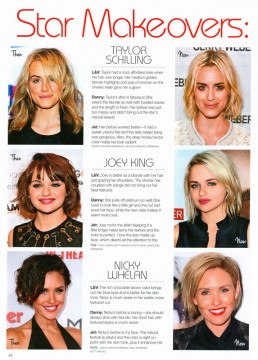 Taylor Schilling
Jet: Her before worked better–it had a sweet, playful feel and the side-swept bang was gorgeous. Also, the deep honey/nectar color made her look radiant.
Joey King
Jet: Joey rocks the after! Keeping it a little longer helps tame her texture and the color is perfect. I love the less made-up face, which directs all the attention to the hair.
Nicky Whelan
Jet: Nicky's before is my fave. The natural texture is playful and the color is right on-point with her skin tone, plus it enhances her eyes.
Iliza Shlesinger
Jet: The before is my hands-down fave! The color worked brilliantly with her skin tone and the length played up her bone structure. I also like the flatter roots and carefree waves.
Lily Collins
Jet: Lily's after is the winner! It's a sleek, well-polished but not stiff cut that accentuates her features and the maple brown color enhances her texture and skin tone.
Ashlee Simpson
Jet: This is a powerful transformation. The cut frames her face and she's awesome in icy blonde..without roots!