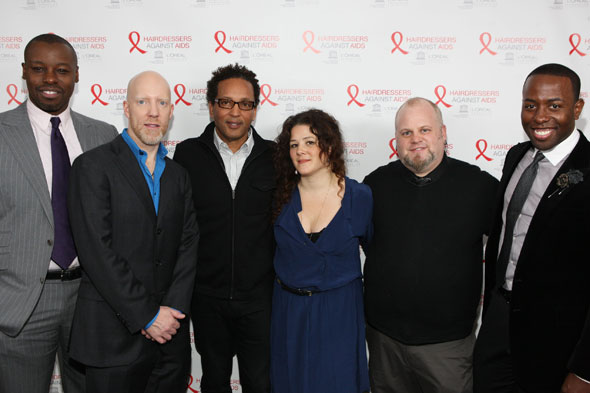 Ted Gibson, Jason Backe, Kaz Amor, Tracey Cunningham, Doug Macintosh, and Johnny Wright attend Hairdressers Against AIDS U.S. Launch At The United Nations at United Nations on November 30, 2010 in New York City. Photo: Bennett Raglin/WireImage for Hairdressers Against AIDS
By Grace Gold
Over 500 hair stylists have invaded the United Nations for a cause far more urgent than just your typical bad hair day intervention.
Today, kicks off the United States launch of Hairdressers Against AIDS, a joint venture between L'Oréal and the United Nations Educational, Scientific and Cultural Organization (UNESCO), which urges stylists to use the often intimate, tell-all relationships they have with clients as a jumping point to educate them about AIDS prevention, testing and available treatment resources.
"The longest relationship I've ever had with a man has been with my hair stylist, Garren," said Allure Editor in Chief Linda Wells, to the laughs and knowing smiles of the room filled with hairdressers who had flown in from all parts of the country to support the cause.
It's that uniquely special and loyal relationship that often deepens over years that allows hairdressers in particular to be very effective advocates, as they can gab details surrounding sexual activity that most women won't even share with loved ones and partners.
"Today, information is the only vaccine against HIV," said John Tedstrom, President and CEO of the Global Business Coalition on HIV/AIDS, TB and Malaria.
L'Oréal higher-ups, government officials and AIDS educators who addressed the crowd emphasized that blasting through the stigma surrounding HIV and creating an open atmosphere for discussion could actually save clients' lives.
The 500 stylists will brave downpour and windy conditions to descend upon Times Square, with a goal of creating one million conversations about HIV and AIDS with New Yorkers. The effort aims to spread awareness and curb the spread of death and disease in order to honor World AIDS Day.
Celebrity stylists like Ted Gibson, Jason Backe, Tracey Cunningham and Jet Rhys will be on hand to pound the pavement for the long day of aggressive volunteer work.
"AIDS isn't talked about because women don't want to feel tainted or associated with disease, it can seem dirty. But we have to spark the conversation — it can save lives. And listening to the speakers made me realize that I need to talk to my own two teenage boys about it," Rhys told StyleList.
And the HIV positive Regan Hofmann — whose long flowing blonde locks and Ivy-league upper class upbringing seems to fly in the face of the stereotypical AIDS patient — said it was also her hairstylist who was the first to comfort her in the shocking aftermath of her fatal diagnosis.
"I was scared my hairdresser wouldn't want to touch my hair again. But after sitting down for a shampoo and feeling him run his fingers through my hair, I felt safe and comforted in a way I wasn't able to before," said the Editor In Chief of POZ Magazine.