Hello my fellow beauty connoisseurs:
The color temperature is rising, and blondes are scorching for summer! Whether it's highlighting, slicing, paneling or all over color, let's freshen our blondes up, or better yet, reinvent them. I have to admit it, there is just something about a blonde! She has the ability to morph into whatever she wants, whether it be chic, glamazon, mom, even a social climber. Also, having been a blonde myself once or twice during my fab career, I can actually say blondes really do have more fun!
I am a true believer that any woman can be a blonde. The key is to make sure it's the right blonde for that person, and the integrity of the hair will be fabulous. It's a great feeling when your client trusts you in your consultation; you can feel her braveness in trying a new look, and it will completely transform and inspire a new way of looking at herself from head to toe.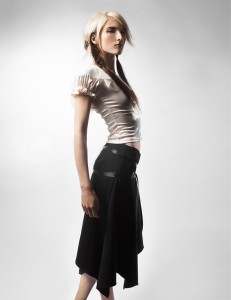 Jet's Color-Pop technique
At Jet Rhys salon, our theme for summer is "I wanna be blonde!" We've even created some fun new techniques for blondes. The Outliner features smartly outlined sections in contrasting blonde tones, which works with the hair's natural movement. Fuzzy Logic softens your color focus with a fusion of shades that intermingle with each other. This is a great service for clients that are shy about taking the plunge. Color-Pop is subtly outlined and colored in shapes. This is a beachy keen way to keep your blondes popping through the summer.
Color is a huge investment, so we've also been seeing great results in speaking to our clients about how to keep their blonde hair shiny, not dry. We make sure they use the best shampoo and conditioner and encourage them to indulge in a treatment every time they have their color done. Teach clients to think of their fabulous color like a cashmere sweater; you can't just throw it in a washing machine. Have them take a little extra time with their new blonde beacuse the more they treat it with kindness, the more fabulous it looks!
Cheers, Jet