Greetings my fellow beauty connoisseurs,
What do you get when you bring thousands of fashionistas together under a huge
umbrella? It's the one and only IBS New York show. This Jet is soaring from seeing so much talent and passion & I hope I never come in for a landing! A huge round of applause for the platform artists, educators, vendors, models and all the licensed professionals for coming together for a shared goal, and that is to inspire and excite each and every one of us. We can bring our new knowledge and techniques back to our salons for our teams and clients. Now is the time to open up our minds and re-invent our services that we give to our wonderful, loyal clients.
Color tip of the week: When using more than one color on your client, use cotton to keep the color from intermingling. Until next time my friends!
Cheers, Jet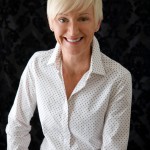 Jet's career started at the age of 6 in her grandma's beauty salon in Chicago. Since those humble beginnings, her talents have taken her across the globe working with and teaching hair color for Vidal Sassoon salons for 10 years. Jet is co-founder of Jet Rhys Salon in San Diego. Recently selected by Self magazine as one of the top colorists in the U.S., Jet frequently works behind the scenes creating the money shots of those glossy, swingy manes for national television and print ads. Jet's motto is "look, study, attack."