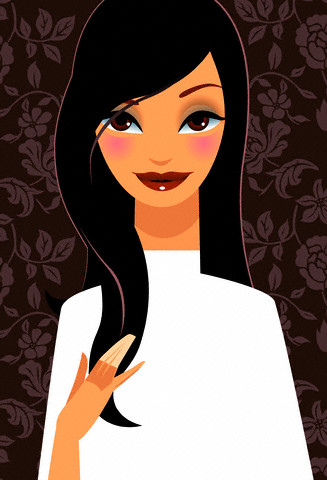 How many of you are afraid to try at-home hair color? Perhaps you're a hair color virgin or just tired of the expensive visits to the salon…well, we put together DIY guide for at-home color – with plenty of tips from the experts! Let's get started, shall we?
WHAT COLOR ARE YOU?:
You're at the drugstore staring at rows and rows of boxes. Which box do you choose? Simply take part some of your hair and put it next to the color swatch on the box. We recommend choosing a color no more than two shades lighter or darker than your natural shade.
In the past, you've colored your locks professionally, but now want to attempt it at home. What color are you? Here is what Marcy Cona, Global Director of Color & Style at Clairol recommends: Determine your current color by viewing it in the daylight. Fan out your hair at the bottom and then look at the shade guide on the side panel of the hair color box.
If you are having trouble selecting the correct shade, stylist David Scott recommends speaking to staff in the beauty department at your local drugstore; they are often trained on the various lines that are available.
What's the difference between Permanent and Semi-Permanent color? Semi-Permanent typically won't lighten your hair since it doesn't contain a high percentage of ammonia. If you're after shine or translucent highlights, Semi-Permanent color is for you. Because it's more opaque, "Permanent is used to go lighter or darker than your natural color," says Emily Thomas, the Lead Colorist at Cutler Salon.
Cool or warm tones? "If your skin tone is warm, a warm shade will look best. If your coloring is cool, cool or ashier tones are best," says Christopher John of the GARREN New York Salon. (If you don't know, check out TotalBeauty.com or ask a department store makeup artist who can help.)
Just want highlights? J. Antony, the Color Director at Salon A.K.S., recommends the "Eyelights" technique, which consists of looking into a person's eyes and finding the hair color that best complements his/her skin tone, face frame and of course, eyes. For instance, "even people with blue eyes have a hint of yellow, so by adding a few golden highlights will bring out the blue hues even more," says Antony. It's a great way to add depth and richness to your lustrous locks. But "don't go too red with highlights, as this can make hair look brassy," warns Jamal Hamadi of Hamadi Beauty.
PRE-TREATMENT:
"Start with a great cut – porous strands never look good, no matter what hair color you add," says Cona.
In preparation of coloring, use a deep conditioning treatment several times. "The idea is to hydrate dry uneven cuticles, since they don't absorb dye evenly and create a smooth surface that reflects more light," Cona explains.
Take a swipe of Vaseline and run it around your hairline and over the tips of your ears. This will help prevent the color from bleeding and staining your skin. Alternatively, you can pick up a product like Repelle Skin Shield Wand, which also helps create an invisible barrier.
COLOR APPLICATION:
Boxed color often does not come with a brush to apply color and you may find it helpful to pick one up from a beauty supplier, suggests Scott.
Hair is usually most porous on the top layer of the hair. Why? This is because the top layer is most exposed to the elements…and it needs the most TLC. "Leave the color on this part of the hair the least amount of time. Porous hair will soak up color fast so keep checking this part of the hair while processing," advises Thomas.
"During the last three minutes before shampooing, scrunch up color in the ends of your hair for sparkle!" encourages Jet Rhys, owner of Jet Rhys Salon.
Touch up your color every six to eight weeks. However, if you have over 50% grey, Thomas recommends touching up your roots every four weeks.
When touching up, only apply the color to the roots. The easiest way to do a full root application is to section your hair in four parts – like a pie! Apply the haircolor to the root area within the four sections and process for about 25 minutes," advises Cona. "If the ends have faded, simply pull the color through," adds Lucio Galano, Color Director at Privé Salon. "Keep in mind hair grows a 1/2 inch per month, nothing can stop that."
Do not try a drastic color change at home. This is where hair disasters happen. If you're after a dramatic change, visit your salon and let the experts work their magic!
POST-TREATMENT: 

To help the colored hair hold on to its brilliance and shine, Galano suggests that you avoid shampooing for 24 hours after coloring.
To make color last, "try to shampoo every other day with cool or tepid water and finish with a cool rinse – this will help close the cuticle, which will enhance shine," says John.
Once a week, replace your regular conditioner with a deep conditioning treatment, such as Nice 'n Easy ColorSeal Conditioning Gloss, that is designed to lock in your color.
Use styling products that protect your hair like the Hamadi Shea Spray or Cutler Protectant Treatment Spray. This will prevent damage caused by heat styling, sun, chlorine and other environmental elements.
As color fades and hair begins to look dull and flat, Scott recommends picking up shine boosters from lines such as John Frieda or Pantene.