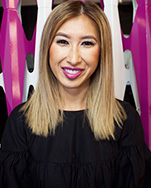 Mai Nguyen-Tabana ~ Top Stylist + Educator
Haircutting has always been a part of Mai's life, growing up spending time at her aunt's salon. Mai attended City College for cosmetology and studied barbering. She loves shaping her clients' hair to accentuate their very best features, creating a modern interpretation of their ideal style. Versatility is her best friend. Although she works with all hair types, she particularly favors wavy hair, which can support a curl set or be smoothed into a polished look with a fabulous blow dry. Mai finds inspiration everywhere: the history and cyclical nature of fundamental hair trends, color and shape, the wisdom of her bosses, and through her education of assistant stylists at Jet Rhys. She loves working with so many creative and forward-thinking people. Other specialties include hair extensions, weddings/glamour styling, keratin smoothing, and event/ bridal makeup.
Mai's Cuts are $72
"My client can trust me with their long locks, leaving with exactly what they asked for." – Mai
Fun Fact: Mai speaks Vietnamese, Cambodian and English, collects shot glasses from all over the world, and once eloped to Bali to marry her now-husband.
Video
Ruby Red Ombré Lips
Simple Winged Eyeliner Tutorial
Reviews