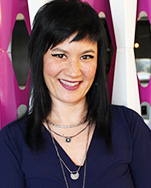 Christina Stacy ~ Creative Director + Educator
Since the year 2000, Christina has been a principal member of the Jet Rhys team. Her education has included training at the Vidal Sassoon Academy, Bumble and bumble and TONI&GUY Academies, as well as teaching aspiring stylists at Vidal Sassoon Academy. Now, Christina imparts her extensive knowledge to Jet Rhys Hair Salon's creative staff. She compares her craft to a magician's optical illusions, working with every client's unique physical attributes to enhance their features and achieve the most complimentary look. She keeps up-to-date on cutting-edge industry trends through social media such as Pinterest, Facebook and YouTube. Other specialties include Yuko permanent straightening and keratin smoothing.
Christina's Cuts are $98
"I enjoy educating clients in how to love and embrace their natural texture – either with fast and simple ways to recreate the look they got in the salon, or by changing the products they use to get better results on their own." – Christina
Fun Fact: Christina has a talent for bumping elbows with celebrities: she attended Justin Timberlake's birthday party, and once Matthew McConaughey stopped her on the street to compliment her haircut.
Reviews