As seen on KUSI News
Q&A:
Why would someone want hair extensions?
Most women would agree; if your hair looks good, you feel fabulous. For women who have always wanted longer, fuller hair, without the pain of growing it out, there's finally a solution- natural hair extensions by Eurolocs, Naturalocs and EasiHair.
How do hair extensions work?
Traditionally, there have been three methods of extending hair: gluing, sewing, or chemically bonding, none of which really work. Glue causes problems because it often melts when exposed to sunlight. Sewing and braiding can cause tension hair loss for some people, and chemically bonding can damage hair that is already fragile to begin with.
What makes Eurolocs, Naturalocs and EasiHair different?
The Eurolocs and Naturalocs natural hair extensions system uses hair wefts to create length and true color without causing any damage. The extensions are applied behind the hairline and away from the natural partings with a small copper lock the size of a pea. EasiHair wefts create a completely natural fullness to the hair with no stress to your own hair. Both methods blend naturally with your hair and are virtually undetectable. The hair, which is 100% human hair, comes in many different textures –straight, curly or wavy. Getting it to match perfectly with your true hair color is the trick. The expert will take a sample of your hair, then custom blend blonde, red or brown colors, add highlights, lowlights, and even "hot" colors such as pink or purple.
Hair problem #1
73 percent of women say they have damaged hair, according to a recent study by Procter & Gamble. Our first model, Tara, suffered from over-blonde, fragile hair. Her goal was to have long, luxurious hair and get her natural color back in. Dani from Jet Rhys Salon applied the Eurolocs and Naturalocs hair extensions, and you can really see the difference. Jet Rhys is the first salon in San Diego that has trained extensively with Eurolocs and Naturalocs and has the expertise in customizing a color that will enhance your skin tone and match your hair texture to perfection.
Hair problem #2
Another common hair dilemma that women experience is very fine hair. One client wanted to achieve added fullness and length by growing out your hair, but every time she tried, it just fell flat and out of shape. Many women in that same situation become so frustrated they break down and cut it short again. With EasiHair extensions, there's no more suffering. You can enhance your hairstyle instantly without the pain of growing it.
Who can wear natural hair extensions?
Anyone ready for longer, more luxurious hair can benefit from natural extensions. They add length and movement while your hair grows. The patented cold application is painless, and especially formulated for people with fine or fragile hair.
How long does it last?
Depending on your hair type, most people can go up to three months before needing any service. With hair extensions, you can color and style your hair just like normal. You can even use curling irons and hot curlers without doing any damage.
Where can I get natural hair extensions?
It's important to go to a stylist who has trained extensively in natural hair extension application. Hair that has not been prepared properly can lead to major problems. You shouldn't see just any stylist either – they should be a color specialist. If you are looking for an experienced hair extensions stylist in the San Diego area, call Jet Rhys today at 858 345 1895 to schedule an appointment for a consultation.
($40 fee – which applies toward service)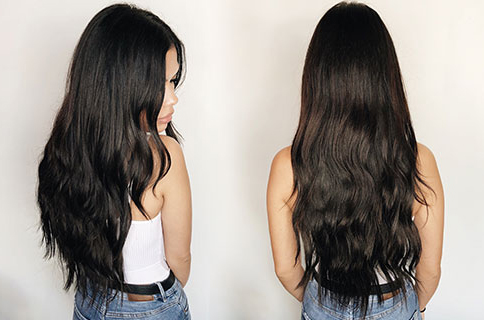 I decided to get extensions because I have always dreamed of having longer/fuller hair. However, unfortunately with my hair type, I was never able to achieve that naturally. My hair is the type where it only really looks good/full at collar-bone length, anything longer than that it starts to look very wispy at the ends. Not to mention it takes what seems like an eternity for it to grow! After months of complaining, my colleague Mai recommended hair extensions, and it was the best decision yet. I went from collar-bone length hair to 20 inches of dreamy Rapunzel hair!
Mai was awesome! She went through a full consultation with me about everything there is to know about extensions; how to maintain them, how to care for them, the proper shampoo and conditioner, styling, etc. She matched the color perfectly, and you can tell she really took her time in placement because it blends so beautifully, it actually looks like MY HAIR! I love my hair now more than ever. Thank you Mai!
– Sharlene Curiel