Refer Your Friends
Refer a new client and give them
a $20 Gift Card for their first visit…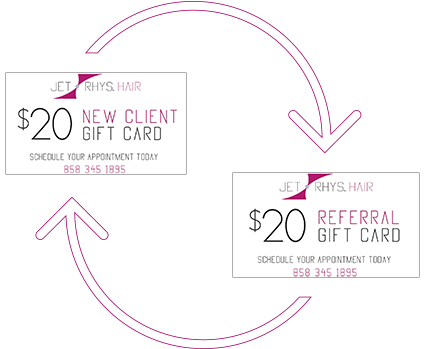 …once they come in we'll give you
a $20 Gift Card for your next appointment!
---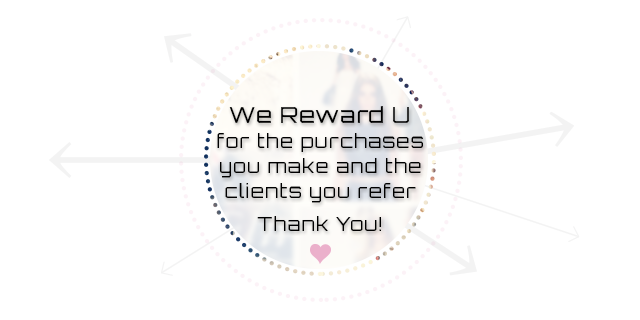 ---
Your Loyalty Earns Points for Big Rewards
What are Jet Rhys Rewards?
Jet Rhys Salon offers Jet Rhys Reward Points as a part of our Loyalty Program.
What are the points good for?
Once you achieve a reward points level, you can choose to redeem your points or continue to accrue points towards the next level of rewards. See below for redemption levels and rewards.
500 points = $20 Off Retail Product
1,000 points = Complimentary Treatment
1,500 points = 1-on-1 Personal Styling Lesson with Your Stylist and 10% off product
2,500 points = $100 Service Credit
How Do I Get Started?
You can sign up for the Jet Rhys Loyalty Program at the Front Desk. There is a one-time fee of $25 to sign up and you will receive a $25 service credit upon enrollment.
How Do I Earn Points?
Earn 1 point for every dollar you spend on Jet Rhys services and products.
Program Rules
All points are earned after check-out is completed.
Points received that day cannot be used towards reward levels the same day.
Jet Rhys Reward Points earned prior to check-out can be used at anytime once a redemption level has been met.
Points automatically reset after 2,500 points and a $100 service credit is applied to your account.
Jet Rhys Reward Points are not accumulated on reward point redemptions.
Jet Rhys Reward Points must achieve a reward level for redemption and cannot be used for partial payments.
Jet Rhys Reward Points are not redeemable for cash.
Jet Rhys Reward Points cannot be used with any other offer.
The Jet Rhys Reward Points system is subject to change.