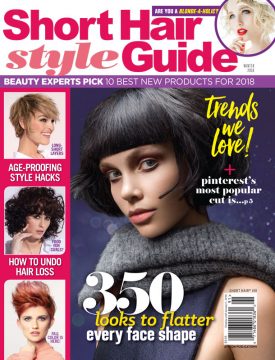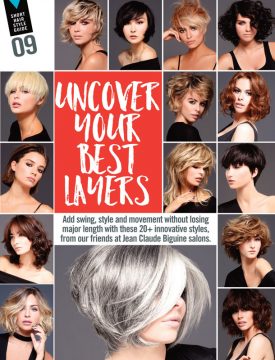 Add swing, style and movement without losing major length with these 20+ innovative styles, from our friends at Jean Claude Biguine salons.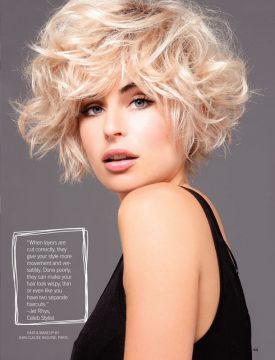 "When layers are cut correctly, they give your style more movement and versatility. Done poorly they can make your hair look wispy, thin or even like you have two separate haircuts." – Jet Rhys, Celeb Stylist

CHOPPY
"Choppy layers work great on fine hair in need of a boost or thick hair that could use some control," says Rhys, owner of her namesake salon in Solana Beach, CA. "Sections are cut to boost fullness and can also add asymmetry and create allover texture and definition."
Lots of side volume and jet black locks (a nod to the goth trend, alive again) are oh-so edgy.
This cut is tailor-made for girls with naturally wavy hair. Simply wash, scrunch and go!
Opt for asymmetry with layers that are longer on one side. In back, short vertical layers increase interest.
Give shoulder-length locks a shaggy vibe by pairing a full crown with pieced-out ends.
Best for thick hair with a hint of wave, this snip features stacked layers in back, tapered ends and curtain bangs.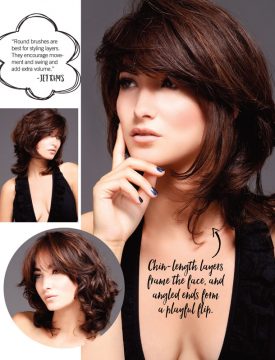 "Round brushes are best for styling layers. They encourage movement and swing and add extra volume." – Jet Rhys
Chin-length layers frame the face, and angled ends form a playful flip.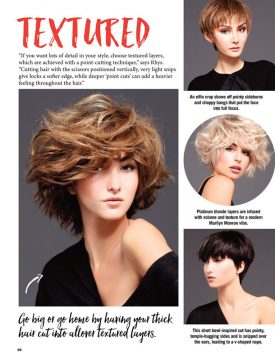 TEXTURED
"If you want lots of detail in your style, choose textured layers, which are achieved with a point-cutting technique," says Rhys. "Cutting hair with the scissors positioned vertically, very light snips give locks a softer edge, which deeper 'point cuts' can add a heavier feeling throughout the hair."
An elfin crop shows off pointy sideburns and choppy bangs that put the face into full focus.
Platinum blonde layers are infused with volume and texture for a modern Marilyn Monroe vibe.
This short bowl-inspired cut has pointy, temple-hugging sides and is snipped over the ears, leading to a v-shaped nape.
Go big or go home by having your thick hair cut into allover textured layers.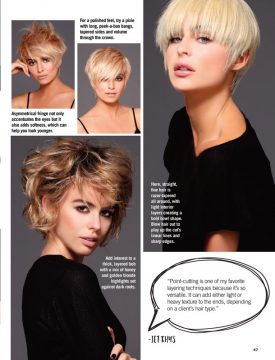 For a polished feel, try a pixie with long, peek-a-boo bangs, tapered sides and volume through the crown.
Asymmetry fringe not only accentuates the eyes but it also adds softness, which can help you look younger.
Here, straight, fine hair is razor-tapered all around, with light interior layers creating a bold bowl shape. Blow hair out to play up the cut's linear lines and sharp edges.
Add interest to a thick, layered bob with a mix of honey and golden blonde highlights set against dark roots.
"Point cutting sone of my favorite layering techniques because it's so versatile. It can add either light or heavy texture to the ends, depending on a client's hair type." – Jet Rhys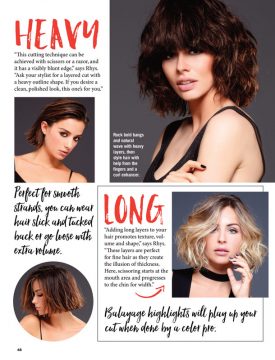 HEAVY
"This cutting technique can be achieved with scissors or a razor, and it has a visible blunt edge," says Rhys. "Ask your stylist for a layered cut with a heavy outline shape. If you desire a clean, polished look, this one's for you."
Rock bold bangs and natural wave with heavy layers, then style hair with help from the fingers and a curl enhancer.
Perfect for smooth strands, you can wear hair slick and tucked back or go loose with extra volume.
LONG
"Adding long layers to your hair promotes texture, volume and shape," says Rhys. "These layers are perfect for fine hair as they create the illusion of thickness. Here, scissoring starts at the mouth area and progresses to the chin for width."
Balayage highlights will play up your cut when done by a color pro.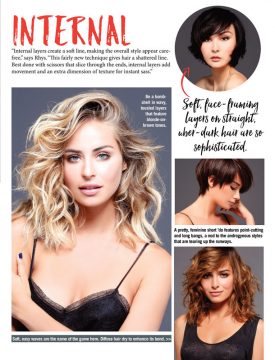 INTERNAL
"Internal layers create a soft line, making the overall style appear carefree," says Rhys. "This fairly new technique gives hair a shattered line. Best done with scissors that slice through the ends, internal layers add movement and an extra dimension of texture for instant sass."
Soft, face-framing layers on straight, user-dark hair are so sophisticated.
Be a bombshell in wavy, tousled layers that feature blonde-on-brown tones.
A pretty, feminine short 'do features point-cutting and long bangs, a nod to the androgynous styles that are tearing up the runways.
Soft, easy waves are the name of the game here. Diffuse hair dry to enhance its bend.