Prepare to cause major hair envy.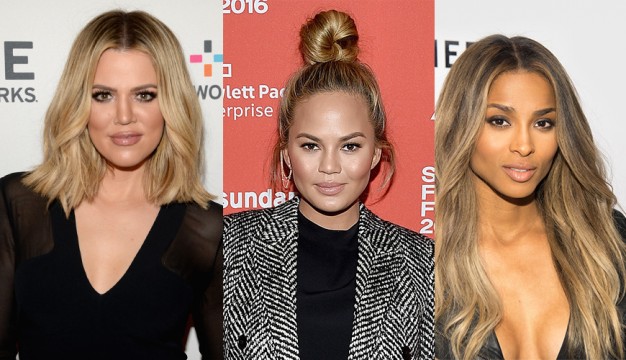 by Alexis Farah
With award season in full swing, gorgeous hair is taking center stage in a big way. But anyone taking a peek at all the behind-the-scenes mayhem (thank you, Snapchat!) can see that celebrity stylists often have to get creative when trying to achieve flawless hair in a pinch. Here, those mane gurus took a quick break to share their most surprising advice for recreating red carpet looks—as well as simple solutions to keep hair healthy.
1. Fake a fuller ponytail by doubling up.
"Fake thicker hair by stacking two ponytails close together, on top of each other in the back of your head." – Jet Rhys, owner of Jet Rhys Salon in San Diego who has styled Faith Hill and Julia Roberts
2. Use a hair mask before you work out.
"Did you know the salt from your sweat can actually dry out your hair? If you apply the OUAI Treatment Masque before your workout, the ingredients push moisture into your strands and seal it in before the salt has a chance to dry your hair out. The heat from your workout will allow the mask the work deeper, then all you have to do is rinse and go!" – Jen Atkin, founder of OUAI and celebrity hairstylist whose clients include Khloe Kardashian and Jessica Alba
3. Moisturize your hair color twice a day.
"My golden rule for all my balayage and hair color clients: Every time you moisturize your face, also apply a few drops of light hair oil like Number 4 Fluoro5 Elixer Restore & Repair Oil from the middle of your hair to ends to keep it hydrated and silky." – Chad Kenyon, celebrity colorist at The Benjamin Salon in Los Angeles who applies hair hue to Abigail Spencer and Elisabeth Moss
4. Remove excess product buildup with this handy trick.
"Simply run an alcohol-free hand wipe through your hair a couple of times. Not only will it remove excess product, but it will also freshen up the hair, removing odors without having to shampoo." – Johnny Lavoy, PRO Beauty Tools celebrity hairstylist whose client roster includes Ariana Grande and Chrissy Teigen
5. Create beachy waves while you sleep.
"Lightly spritz dry hair with a salt spray like Rockaway from R+Co or a moisture mist like Oribe Foundation Mist. Twist hair into four flat Princess Leia buns (one above each ear, one at each side of the nape) and go to sleep. The style is super comfortable to sleep on and you can wake up and shake loose effortless beachy waves!" – Michael Angelo, founder and creative director of Wonderland Beauty Parlor who has worked with Brooklyn Decker and Susan Sarandon
6. Chill your leave-in conditioner for extra shine.
"One really cool (pun intended) tip for healthy hair is to keep your leave-in conditioner in the fridge. We have all heard of using the cool rinse to seal the hair cuticle and make hair shiny, well this takes it a step further for frizzy and unruly strands that never seem to have a lasting shine." – Tippi Shorter, Aveda global artistic director for texture who works with Alicia Keys and Ciara
7. Short on styling products? Use conditioner instead.
"If you don't have any styling cream, gel, or hairspray and are trying get a sleek pony or braids, use conditioner where you want to tame your baby hairs. I recently used this strategy on Shanina Shaik. We didn't have any styling products or a comb so we used an eyeliner pencil to make a part and conditioner to tame the baby hairs." – Jennifer Yepez, celebrity hairstylist whose work can be spotted on Gigi and Bella Hadid
8. Massage your scalp for extra volume.
"Massage your scalp! Blood flow to your scalp and roots positively affects hair growth and integrity. If your partner loves your hair, make them massage your scalp. I do this with every client on set. It's great for body, volume, heart, and soul!" – Charles Baker Strahan, Herbal Essences celebrity stylist who has worked with Christina Applegate and Aubrey Plaza
9. Add some sweetener to your hair dye to protect the scalp.
"Believe it or not, Sweet 'N Low isn't just for your coffee! Although Matrix color is super gentle, some of my clients still get an itchy or irritated scalp. For that, I usually add a few packets of Sweet 'N Low sugar to the hair dye while the color develops. This secret ingredient helps to neutralize the scalp from itching and irritation!" – George Papanikolas, Matrix SoColor stylist whose client list includes Naya Rivera and Kelly Rowland
10. Think outside the bottle to tame frizz.
"One of my favorite ways to get rid of flyaways is to spray a flexible hairspray, like Aussie's Sprunch, and then roll the bottle over the hair to lock down the frizz! This trick works great on a smooth blowout or a sleek ponytail." – Sarah Potempa, Aussie celebrity stylist who coifs Emily Blunt and Ashley Benson's mane