By Petra Guglielmetti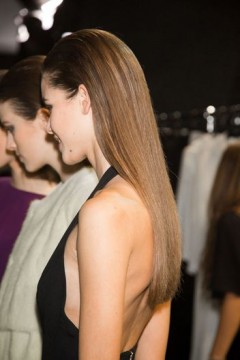 Hair static is the icing on the bitter-tasting cake that is late January. As if it's not treacherous enough that icy winds have our eyes watering and our faces about to freeze off, we also have to deal with our hair standing on end, too. Thankfully, static isn't the hardest hair issue to fix, as long as you employ the right tricks. The first step is providing your hair with extra moisture. "Very simply put, static flyaways happen when the hair or the environment around the hair is dry, so moisture is the answer," explains NYC salon owner Oscar Blandi and Solana Beach salon owner Jet Rhys. Try adding an extra weekly deep-conditioning treatment to your usual hair care routine. "Conditioning products help hair retain moisture and keep strands weighed down—in a good way—which is the best way to fight static." Then be ready to handle static situations as they arise with the following quick fixes.
1. Prep your hair with products meant for curls.
If you're especially static-prone, consider making a seasonal switch to cleansing and styling products meant for curls (whether or not you actually have them). "Wax-based products or oils for curly hair are ideal since they are heavier and will weigh hair down," Blandi explains. Avoid volumizing products, which can leave hair feeling more electrified.
2. Grab a dryer sheet.
You already knew this one, right? If not, now's the time to add it to your arsenal of emergency hair tricks. Dryer sheets (preferably the unscented kind) are the gold standard when it comes to getting static to calm the heck down. Just don't press too hard or you could end up with white stuff in your hair. Pack a few sheets in a ziplock and hide it away in your handbag; you'll thank us on some upcoming evening when you're rushing out to postwork drinks with your hair standing on end—or your skirt clinging to your tights. Or try sheets made specifically for hair, like Kerastase Carre Lissant Smoothing Sheets for All Hair Types.
3. Mist Static Guard on your hairbrush and winter accessories.
Tempted as you may be, don't spray this stuff all over your head. Instead, mist just a little on a hairbrush before running it through your strands. As the name would have you believe, it guards against static as you get dressed and bundled up. "Spray all your hats and scarves inside and out," adds salon owner Jet Rhys. "It's a life saver!" Should you want to bring its magic on the go, you can find mini bottles in the trial-size section of stores like Bed Bath & Beyond and Target.
4. Or use hairspray.
Wait, what? You don't happen to have a mini can of Static Guard in your bag?Yeah, we're not always that organized/prepared either. If you happen to have some hairspray around, that's a good second choice when it comes to preventing static during brushing. Just mist some on your brush as described above.
5. Shelve your nylon hairbrush.
Plastic combs and brushes exacerbate static. "Try brushing your dry hair with a brush that has metal bristles—it'll absorb electrical currents from your hair," Rhys suggests.
6. Multitask with your hand cream.
The moisturizing ingredients in your hand cream are ideal for weighing down wayward hairs when you're out and about. "Just applying a small amount to your hands and then rubbing your hands on the static can help," Blandi says.
7. Hit the faucet.
When all else fails, plain-old water is your friend in the fight against static. "It's the easiest non-product way to fight static," Blandi says. "Apply a little bit of warm water to your hands or a tissue, and rub it along your hairline or the ends of your hair—wherever the flyaways are happening."