This is one trend we hope doesn't spread like wildfire. Several weeks ago, Victoria's Secret model and stunning celeb mama Alessandra Ambrosio shared a photo of herself undergoing a trendy hair treatment that's super-hot. Literally.
The treatment, which has been done in Brazil for years and is also beloved by models Barbara Fialho and Isabeli Fontana, is called velaterapia. Vela means "candle" in Spanish, and the process involves having a stylist twist a lock of hair and then pass a flame over the raggedy ends that stick out. They sizzle away, supposedly leaving you with hair that's less frazzled. Buh-bye, split ends!
Here's Alessandra's buzz-worthy pic of the treatment: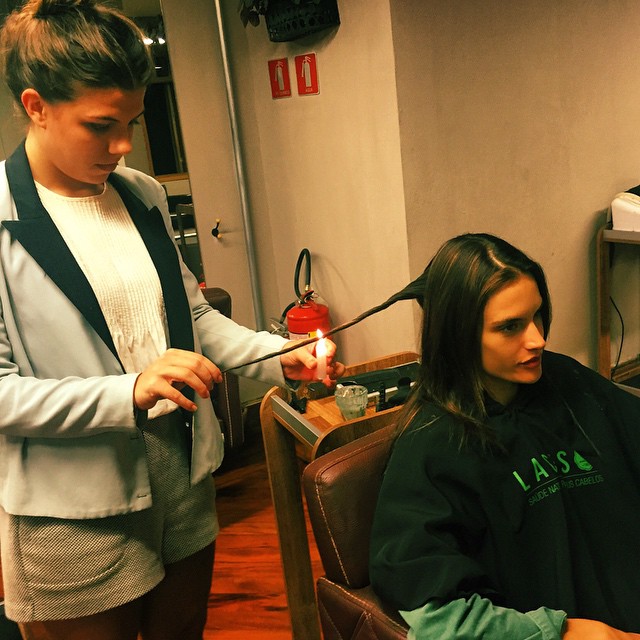 The VS Angel may love it, but Smokey the Bear is not the only one who doesn't think you should try this at home. What you're frying off may not actually be splits, according to celebrity stylist Jet Rhys, stylist and owner of the Jet Rhys Salon in Solana Beach, California.
She explained to us exclusively:
"When the hair is twisted in sections, of course you will have ends sticking out. Those could be the layers your stylist just gave you."
If you use conditioner to keep hair hydrated, you shouldn't have splits traveling up the length of the hair shaft. Unless you've just gotten a trim, she says, "all of us have some split ends only on the bottom edge of the hair."
Rhys adds:
"I would never, ever trust anyone with a candle near my hair, head, or face. Accidents can happen. I plead that this will disappear, because I can only imagine what will happen if women try this at home."
She also points out that the lighting in the "after" photo was a lot brighter: "All hair looks more radiant under the right lighting, and after a professional blow dry."
In the end, we think we'll stick to a good old scissor trim every six to eight weeks for shaped-up hair.