Hair Color Trend Alert! Ombré's Chicer Cousin, The Sombré
We're so done with bi-color hair.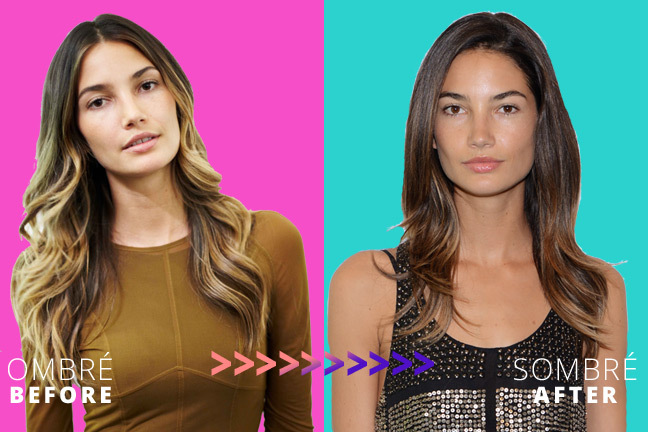 By Grace Gold
Ombré came and conquered. With a vivid shift from dark to light hair and a bold line of demarcation, the trend was no doubt the celebrity favorite for several seasons.
Now that the moment is over (don't take it personally, ombré—it happens to every trend), top stylists are already waxing poetic about their newest obsession: a reimagined version of the gradation.
Enter sombré (subtle + ombré), a coloring technique that allows for a softer, more natural diffusion that even those of us who aren't red carpet regulars or bold personalities can actually pull off with ease. Think color that gradually fades from top to bottom, much like a little kid's long hair gets those gorgeous, naturally lighter ends in the summer. It's a look that seems more refined, less fashion-victim-y, and is absolutely appropriate for office environments (unlike crazy, two-toned ombré).
And while brunette ombré-loving beauties like Mila Kunis, Jessica Alba, and Lily Aldridge have already transitioned to the flattering technique for winter, it's a look that translates to virtually every base shade of color. Even redheads, who didn't get as much love during the ombré craze, can play with ease.
We were first alerted to sombré by the color experts at L'Oréal Professionnel, who were finding that clients were requesting strong color for fall, but wanted it to be more natural-looking. "Sombré is a fantastic evolution from ombré. I'm living for beautiful, rich, tortoise shell shades and jewel tones of garnet and amethyst, all of which look amazing in sombré style," says L'Oréal Professionnel Artist Jason Backe, who uses the ammonia-free salon INOA line to achieve the look.
Other color pairing ideas to consider: sun-kissed warmth for blondes, shimmer bronze on brunette, redheads with rose gold and cinnamon for deep darks. Like its cousin, sombré is ultra forgiving to growing roots, and you'll likely be able to sneak more time in between colorings than usual.
Sombré also helps prevent highlights from taking over your hair—like when you go for a couple of touch-ups, and suddenly you're an all-over blonde six months later. With sombré, maintaining gently contrasting depth is part of the technique.
"With this look, you still get to enjoy forgiven roots and ribbons of pretty highlights, but women feel more polished than they do with ombré, because it's natural and subtle," says San Diego salon owner and stylist Jet Rhys.
And according to Beverly Hills celebrity colorist Kim Vo, you can achieve sombré with a single process and final toning glaze for shine. Which means that if you're going to a salon to get the look, it'll cost less than other more complicated color options.
Considering the ease of sombré, we predict this is one trend that will be around for quite a while.
photos courtesy of: Lily Aldridge & Getty Images