Bangs aren't just a versatile style option, they can also make you look younger. Whether you choose blunt fringe or side-swept layers, this simple style tweak will revitalize your look. Find out how to make them work for you.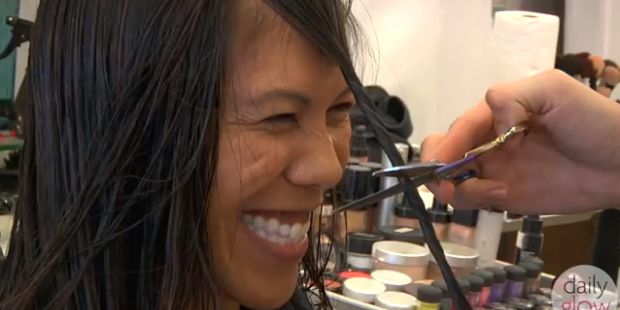 When it comes to looking younger, few measures have the instant and dramatic impact as adding bangs to your hairstyle. "The great thing about bangs is that they cover any wrinkles that you may have on your forehead," says Anthony Pazos, a celebrity stylist in Los Angeles.
Finding bangs for your face shape
To find a look that works for you, use your face shape as a guide. Oval shapes can get away with any type of bang, says Jet Rhys, celebrity hairstylist and co-owner of Jet Rhys Salons in San Diego. But if you have a heart-shaped face, try a boho bang, which is heavy, slightly shorter in the middle, and longer near the cheek bones. These proportions balance the width at the top of your face and the slimmer area at the chin.
Square-shaped faces should stay away from blunt fringe because it'll accentuate the angles of your face, so try bangs that are cut to the top part of the cheekbone with soft layering. "By doing this they will naturally fall over to a side and this will add softness to your cut," Rhys says.
Round shapes should avoid thick, horizontal bangs because they will draw too much attention to the widest part of your face. "The asymmetrical bang is best, because it strategically offsets the round shape," explains Rhys. "Bangs are cut on an angle from short to long, which balances a round face."
photo credit: courtesy of dailyglow