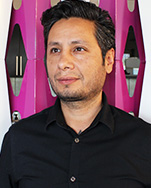 Sal Lozano ~ Senior Stylist + Educator
One of Jet Rhys Hair Salon's top educators, Sal's stylistic journey began with a job as a receptionist. He soon became a student, then rose to assistant, then stylist, and finally a senior instructor at Vidal Sassoon Academy. During his 13 years there, he traveled widely domestically and abroad, training professionals and aspiring stylists. Venues included main stage platform work for major industry trade shows in New York, London, Mexico and Los Angeles, as well as salon seminars and advanced classes around most major U.S. cities. He's also worked in photo shoots for music videos, magazines and television, along with providing services for military wives, reintegration of incarcerated women, and those in assisted living. Borrowing inspiration from architecture, nature, art and the artists around him, Sal believes all hair textures deserve the same controlled suitability and attention to detail, although he specializes in curly/wavy hair and structured geometric shapes.
Sal's Cuts are $92
"I am guided by an individual's desire for form and necessity for style… This industry has given me the gift of releasing my creativity, sharing it through education and helping others by creating their desired look." – Sal
Fun Fact: Outside the salon, Sal spreads his creativity through Guerrilla Gardening: surreptitiously cultivating unused land into flower and vegetable gardens.